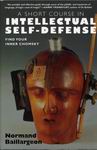 A Short Course in Intellectual Self-Defense
Find Your Inner Chomsky
Baillargeon, Normand
Publisher: Seven Stories Press
Year First Published: {24074 A Short Course in Intellectual Self-Defense SHORT COURSE IN INTELLECTUAL SELF-DEFENSE Find Your Inner Chomsky Baillargeon, Normand Seven Stories Press What must a citizen in a democracy know to make the word democracy meaningful? Baillargeon provides readers with the tools to see through everyday spin and jargon -- from politics to advertising, from mysticism to news reporting. 2005 2008 336pp $18.50 BC24074s-IntellectualSelfDefense.jpg B Book 978-1-58322-765-7 BF441.B26413 2007 121'.6-dc22 - <br> <br> <br>Table of Contents <br> <br>Introduction <br> <br>Part One: Some Indispensable Tools for Critical Thinking <br> <br>1 Language <br>Introduction <br>1.1 Treacherous Words <br>1.2 The Art of Mental Trickery and Manipulation: Some Everyday Fallacies <br> <br>2 Mathematics: Those Who Refuse to Be Conned, Count! <br>Introduction <br>2.1 Treating Common Forms of Innumeracy <br>2.2 Probability and Statistics <br> <br>Part Two: On the Justification of Belief <br> <br>3 Personal Experience <br>Introduction <br>3.1 Perceiving <br>3.2 Remembering <br>3.3 Judging <br> <br>4 Empirical and Experimental Science <br>Introduction <br>4.1 Science and Experimentation <br>4.2 Science and Epistemology <br>4.3 A Few Questions for the Critical Reading of Research Results <br>4.4 The SEARCH Model <br> <br>5 The Media <br>Introduction <br>5.1 Another Kind of Democracy <br>5.2 The Propaganda Model of Media <br>5.3 Thirty-one Strategies for Fostering a Critical Approach to the Media <br> <br>Conclusion <br>Appendix: Independent Media Guide <br>Suggested Readings <br>Notes <br>About the Author <br>About Seven Stories Press CX9389 1 true true false CX9389.htm [0xc001b004e0 0xc0001ff200 0xc000462690 0xc000463350 0xc0005688d0 0xc000fbc630 0xc00077fd40 0xc0008f05a0 0xc00084cab0 0xc00092b860 0xc00041bdd0 0xc0009b8ea0 0xc000f248d0 0xc00057e4e0 0xc0015c50e0 0xc0015faea0 0xc001629ad0 0xc000930150 0xc000e59680 0xc001a30330 0xc0022248d0 0xc000558db0 0xc000661dd0 0xc00079cf90 0xc000fe0ea0 0xc0019091d0 0xc00199bb60 0xc001fe8c90 0xc0024854d0 0xc002643d10 0xc002656240 0xc00057cea0] Cx}
Year Published: 2008
Pages: 336pp Price: $18.50 ISBN: 978-1-58322-765-7
Library of Congress Number: BF441.B26413 2007 Dewey: 121'.6-dc22
Resource Type: Book
Cx Number: CX9389
What must a citizen in a democracy know to make the word democracy meaningful? Baillargeon provides readers with the tools to see through everyday spin and jargon -- from politics to advertising, from mysticism to news reporting.
Abstract:
-
Table of Contents
Introduction
Part One: Some Indispensable Tools for Critical Thinking
1 Language
Introduction
1.1 Treacherous Words
1.2 The Art of Mental Trickery and Manipulation: Some Everyday Fallacies
2 Mathematics: Those Who Refuse to Be Conned, Count!
Introduction
2.1 Treating Common Forms of Innumeracy
2.2 Probability and Statistics
Part Two: On the Justification of Belief
3 Personal Experience
Introduction
3.1 Perceiving
3.2 Remembering
3.3 Judging
4 Empirical and Experimental Science
Introduction
4.1 Science and Experimentation
4.2 Science and Epistemology
4.3 A Few Questions for the Critical Reading of Research Results
4.4 The SEARCH Model
5 The Media
Introduction
5.1 Another Kind of Democracy
5.2 The Propaganda Model of Media
5.3 Thirty-one Strategies for Fostering a Critical Approach to the Media
Conclusion
Appendix: Independent Media Guide
Suggested Readings
Notes
About the Author
About Seven Stories Press
Subject Headings