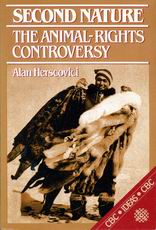 Second Nature
The Animal-Rights Controversy
Herscovici, Alan
Publisher: CBC Enterprises, New York, USA
Year Published: 1984
Pages: 254pp ISBN: 0-88794-149-4
Library of Congress Number: HV4708.H47 Dewey: 179'.3
Resource Type: Book
Cx Number: CX7635
Animal-rights advocates argue that humans have no right to kill any animal, whether by hunting or farming or for medical research. Is this a cure for our ecological ills or is it a symptom of the disease? What is irrefutably logical
Abstract:
-
Table of Contents
Preface
Part 1: Theory
1. The Problem
2. The Philosophical Roots of Our Present Ecological Crisis
i) Descartes and the Animal Machine
ii) Judaism
iii) Christianity
iv) Eastern Philosophy
3. The Origins of Ecology and Animal Rights
i) Conservation
ii) Animal Rights
4. The World of the Cree Hunter
Part 2: Practice
5. Sealing: The Twenty-Year War
i) Prologue and Act One of the Great Baby-Seal Campaigns: Cultures in Collision
ii) Act Two of the Great Baby-Seal Campaigns: Greenpeace and Sex Appeal
iii) Act Three of the Great Baby-Seal Campaigns: The EEC CITES 1983: Botswana
iv) What Really Happened…
v) The People: Newfoundland Fishermen and Inuit Hunters
- Newfoundland
- The Arctic Inuit
vi) The 1984 IFAW "Fish Boycott"
5. Traps and Trapping
i) The Ohio Amendment and the Media
ii) Bringing the Trapping Debate to Europe: A Repeat of the Seal Campaign
iii) Destroying the Consumer Market for Furs
iv) "Wearing Fur is a Mark of Ignorance of Indifference"
v) Aboriginal Trappers and Hunters
vi) CITES 1983: Friends of Animals and Banning the Leghold Trap
vii) The Canadian Fur Industry
6. Animals in Research and on Factory Farms
i) The Factory Farm
ii) Vegetarianism and Animal Rights
Part 3: Building a New Relationship with Nature
7. Building a New Relationship with Nature
i) The Story of Miracle
Notes
Bibliography
Index
Subject Headings