Israel/Palestine:
Resources for peace, justice, and human rights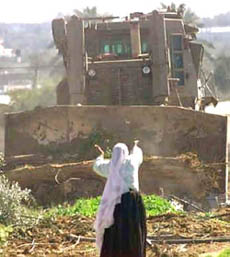 Connexions, an information clearinghouse founded to promote justice, democracy, and social and environmental alternatives, has compiled this Web gateway to selected resources on Israel/Palestine. These resources were selected to help those who believe that a solution to the conflict is possible only on the basis of justice, equality, mutual recognition and an end to Israel's occupation of the Palestinian territories. A more extensive selection of books, documentaries, videos, documents and articles is on the Connexions Library under subject headings such as Israel, Palestine, Apartheid, Arab-Israeli Issues, Discrimination, Ethnic Nationalism, Gaza Strip, Human Rights Abuses, International Law, Israeli Apartheid (Hafrada), Israeli Settlements, Media Coverage/Middle East, Occupied Territories, Palestinian Refugees, Refugees, Refugees/Right of Return, War Crimes, Zionism. Other organizations may be found in the Connexions Directory, especially under Israel and Palestine in the Subject Index. The Connexions Web site — www.connexions.org — also features a library of articles and links concerned with alternatives and social justice issues generally. A printable PDF of the organizations, Web sites, and news sources featured on this page is available here.


Spotlighted articles
See below for more articles.
Why Israel Won't Survive
Ali Abunimah. If there was ever a moment when the peoples of the region would accept Israel as a Zionist state in their midst, that has passed forever. Israel's "military deterrent" has now been repeatedly discredited as a means to force Palestinians and other Arabs to accept Zionist supremacy as inevitable and permanent. Now, the other pillar of Israeli power – Western support and complicity – is starting to crack. We must do all we can to push it over.
Israel in Gaza: A Critical Reframing.
Jeff Halper. The critical reframing we offer, that of Israelis committed to human rights, international law and a just peace as the only way out of this interminable and bloody conflict, argues that security cannot be achieved unilaterally while one side oppresses the other.
Turn off the Canadian Media, Please
Justin Podur. If you want to have the first idea about what is happening in Israel/Palestine (or most of the rest of the world), the best thing to do is to turn them off the mainstream Canadian media.
Israel: Boycott, Divest, Sanction.
Naomi Klein. January 7, 2009. The best strategy to end the increasingly bloody occupation is for Israel to become the target of the kind of global movement that put an end to apartheid in South Africa.
See below for more articles.
Web Sites and Organizations
The Alternative Information Center
A Palestinian-Israeli organization which disseminates information, research and political analysis on Palestinian and Israeli societies as well as the Israeli-Palestinian conflict, while promoting cooperation between Palestinians and Israelis based on the values of social justice, solidarity and community involvement.
Electronic Intifada
Palestinian portal for information about the Israeli-Palestinian conflict and its depiction in the media. News, commentary, analysis, and reference materials about the Israeli-Palestinian conflict from a Palestinian perspective.
Canadians for Justice and Peace in the Middle East
Advocates for a just foreign policy regarding Middle-East issues; demands that the Canadian government uphold and enforce all UN resolutions and instruments of international law, both in word and in deed; challenges the media to present balanced and objective coverage of the Israeli-Palestinian conflict.
Israeli Committee Against House Demolitions
A non-violent, direct-action group originally established to oppose and resist Israeli demolition of Palestinian houses in the Occupied Territories, now also engaged in resistance activities in other areas - land expropriation, settlement expansion, by-pass road construction, policies of "closure" and "separation," the wholesale uprooting of fruit and olive trees and more.
Gush Shalom
Gush Shalom (the name means "Peace Bloc" in Hebrew) is an extra-parliamentary organization, independent of any party or other political grouping, which has played an important role in setting the moral and political agenda of the peace forces in Israel, as well as in breaking the so-called "national consensus" based on misinformation. The primary aim of Gush Shalom is to influence Israeli public opinion and lead it towards peace and conciliation with the Palestinian people.
Canada-Palestine Support Network
canpalnet gathers Canadians of all backgrounds who support the human, democratic, and national rights of the Palestinian people.
Independent Jewish Voices
A national human rights organization whose mandate is to promote a just resolution to the dispute in Israel and Palestine through the application of international law and respect for the human rights of all parties.
Jewish Voice for Peace
A diverse and democratic community of activists inspired by Jewish tradition to work together for peace, social justice, and human rights. Supports the aspirations of Israelis and Palestinians for security and self-determination.
Ta'ayush
A grassroots movement of Arabs and Jews working to break down the walls of racism and segregation by constructing a true Arab-Jewish partnership.
B'Tselem
The Israeli Information Center for Human Rights in the Occupied Territories.
Bat Shalom (Daughter of Peace)
Feminist peace organization working toward a just peace between Israel and its Arab neighbours.
International Middle East Media Center
Media center developed in collaboration between Palestinian and International journalists to provide English language media coverage of Israel-Palestine.
Miko Peled website
Campaigning to transform the Israeli apartheid system into a secular democracy, where Israelis and Palestinians will live as equal citizens.
Not in My Name
A predominantly Jewish organization deeply committed to a peaceful and just resolution of the Israeli/Palestinian conflict, a resolution that will provide safety, security and freedom for Jews, Palestinians, and all others living in this region. We believe that such a peace can only be achieved when Israel withdraws from its settlements in the Palestinian territories and addresses the legitimate national and human rights of the Palestinian people.
International Solidarity Movement
Palestinian-led movement committed to resisting the Israeli occupation of Palestinian land using nonviolent, direct-action methods and principles.
Refuser Solidarity Network
Supports Israelis who refuse to serve in the Occupation.
Coalition Against Israeli Apartheid
Believes that Israel is an apartheid state that resembles South African Apartheid and that justice will not be achieved without equal rights for everyone in the region, regardless of religion, ethnicity or nationality.
Stop the Wall
Site of the Grassroots Palestinian Anti-Apartheid Wall Campaign.
Maps
Maps showing the extent of Israel's land seizures.
Companies that profit from the Israeli occupation
From the Interfaith Peace Initiative. Makes the case for action against companies that profit from the Israeli occupation.
Bustan
Partnership of Jewish and Arab eco-builders, architects, academics, and farmers promoting social and environmental justice in Israel/Palestine. Cultivates sustainable models to effect change by combining advocacy and in-depth political analysis with strategic action and utilizes principles of permaculture and non-violent direct action across ethnic divides.
Zatoun
Zatoun (the Arabic word for 'olive') is a non-profit organization which sells Palestinian olive oil to benefit Palestinian farmers and their children living in occupied Palestine, and which works to create awareness for peace in Palestine.
Selected news and analysis sources
Aljazeera
English-language site of the Arabic news network.
Ha'aretz
Israeli daily newspaper.
Le Monde Diplomatique
Excellent French newspaper with in-depth analytical articles. Also in English, German, and other languages.
ZNet Israel-Palestine Watch
Progressive Web site with extensive coverage of Israel-Palestine.
Counterpunch
An American newsletter featuring numerous articles about the Middle East.
Palestine Chronicle
Independent online newspaper providing daily news, commentary, features and book reviews on a variety of subjects, largely focused on Palestine, the Arab-Israeli conflict and the Middle East as a whole.
Redress Information & Analysis
UK-based Web site "aspires to redress the balance of world news and information by being a voice for the voiceless, by focusing on injustice and by providing an alternative interpretation of international and domestic issues".
Kibush - Occupation Magazine
News, summaries, and commentary by people opposing Israel's occupation of the Palestinian territories. In Hebrew, English and Russian.
Robert Fisk
Web site featuring articles by Robert Fisk, Middle East correspondent for the Independent newspaper.
Jonathan Cook
Web site featuring articles of Jonathan Cook, a British journalist based in Nazareth.
Bitter Lemons
Presents Israeli and Palestinian viewpoints on prominent issues of concern, focusing on the Palestinian-Israeli conflict and peace process. Produced, edited and partially written by Ghassan Khatib, a Palestinian, and Yossi Alpher, an Israeli. Its goal is to contribute to mutual understanding through the open exchange of ideas.
A more extensive list of articles, books, and other resources is available in the Connexions Library under subject headings such as Israel, Palestine, Apartheid, Arab-Israeli Issues, Discrimination, Ethnic Nationalism, Gaza Strip, Human Rights Abuses, International Law, Israeli Apartheid (Hafrada), Israeli Settlements, Media Coverage/Middle East, Occupied Territories, Palestinian Refugees, Refugees, Refugees/Right of Return, War Crimes, Zionism.
Books, Films and Periodicals
Selected Quotes - Israel/Palestine
A selection of quotes about Palestine and Israel.
---
Other Resources on Palestine and Israel - Other International Links
Related topics from the Connexions Library Subject Index:
Aggression - Anti-Semitism - Apartheid - Arab Affairs/Politics - Arab/Israeli Issues - Boycotts - Canada-Israel Relations - Canadian Jews/Attitude to Israel - Censorship - Children/Violence - Crimes Against Humanity - Discrimination - Disinvestment - Double Standards - Foreign Policy - Gaza Strip - Hate - History/Arab - Holocaust - Human Rights Abuses - Human Rights Abuses/International - International Law - Israel - Israel/Doing Business in - Israel/Investing in - Israeli Apartheid - Israeli Settlements - Jewish History - Jews - Jews in Arab Lands - Jews in Canada - Labour Movement - Media Bias - Media Coverage/Middle East - Middle East - Middle East Conflict - Middle East Peace Process - Middle East Politics/History - Militarism - News Bias - News Coverage/International - Occupied Territories - Palestine - Palestine/Occupation - Palestinian Authority - Palestinian Refugees - Palestinians - Peace - Peacebuilding - Propaganda - Racism - Refugees - Rule of Law - Sanctions - Solidarity - South Africa - Torture - United Nations - War Crimes - Zionism