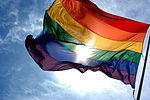 Other Voices: The Connexions Newsletter - June 18, 2016

http://www.connexions.org/Media/CXNL-2016-06-18.htm
Date Written: 2016-06-18
Publisher: Connexions
Year Published: 2016
Resource Type: Serial Publication (Periodical)
Cx Number: CX19517
This issue of Other Voices features a wide range of issues. The topic of the week is homophobia, the hate that led to 49 deaths in Orlando last week, but which is present in greater or lesser form in every part of the world.
We are always concerned, not only with what is wrong with the world, but what to do about it.
This issue carries an excerpt from Umair Mohammed's book 'Confronting Injustice: Social Activism in the Age of Individualism' in which he warns against the pitfalls of individualist and consumer-oriented approaches and argues in favour of collective action to build an effective movement.
Derrick Jensen considers some of the arguments in favour of pacifism and finds them wanting. He agrees that creative approaches to social change can oftentimes make violence unnecessary, but that sometimes violence is a necessary response to violence.
Another article looks at the decline of liberation theology, targeted as a threat by both the Vatican and secular power structures.
Kenan Malik considers the issue of "cultural appropriation" and asks why so many on theso-called left are more interested in criticizing Justin Bieber's hairstyle than in fighting capitalism.
Abstract:
-
Contents:
Topic of the Week: Homophobia
Can we shop our way to a better world?
Pipeline Rights vs Private Property Rights
Top Shale Fracking Executive: We Won't Frack the Rich
Away with the gatekeepers!
The Rise and Fall of Liberation Theology in Latin America
Excerpts from Endgame: Pacifism
Website of the Week: Pandaemonium
Book of the Week: Canada Since 1960: A People's History
Film of the Week: Pride
Organizing: How Propaganda (Actually) Works
The bookseller saving Jerusalem's Palestinian identity
'Suffragetto': a Suffragettes vs. Police Board Game Rediscovered After 100 Years
Subject Headings