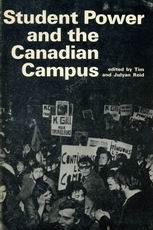 Student Power and the Canadian Campus

Reid, Tim; Reid, Julyan
Publisher: Peter Martin Associates, Toronto, Canada
Year Published: 1969
Pages: 226pp Resource Type: Book
Cx Number: CX9297
A collection of articles about student activism in Canada in the lates 1960s.
Abstract:
-
Table of Contents
Preface: Tim and Julyan Reid
Introduction
1. Background
The Eight Student Demands: Anton Chekhov
Some Canadian Issues: Julyan Reid
The New Left: Michael Walzer
A Student Generation in Revolt: Escott Reid
2. A Liberal Education
Education: Democratization and Decolonization: Pete Warrian
Reformers and Revolutionaries: Escott Reid
Geared to Vocational Training: The Liber-Action Committee, Student Council of Glendon College
Protest: The Canadian College Campus
3. Violence at Sir George Williams
Sir George Williams Loses Its Innocence: Neil Compton
The Apocalyptic Fires: G. David Sheps
You Can't Really Kill a Computer with an Axe: Alexander Ross
4. Student Protest in Perspective
The Perspective of History: Tim Reid
5. McGill
The Troubles at McGill: Stanley Gray
Board Dismisses McGill Lecturer, Recommends Year's Compensation: Ronald Label
6. Fascism or Freedom?
A Radical Dilemma: George Woodcock
In Defence of Student Activism: A Reply: Robert Rae
7. The Glendon College Case
A Valuable and Bold Experiment: Escott Reid
Responsibility and Revolt in Canadian Universities: Escott Reid
Letter to Students and Faculty Members of Glendon College: Jim Park
What is a Student Generated Class: The Liber-Action Committee, Student Council of Glendon College
A Comment: Professor H.S. Harris
Memorandum to All Members of the Glendon College Faculty: Dean H.S. Harris
A University is for People: A Manifesto: The Student Council of Glendon College
Memorandum to all Members of the Glendon College Faculty: Dean H.S. Harris
8. Demand Dissent But Oppose Violence
The University as a Haven for Dissent: Allan Linden
Tactics and Violence: Tim Reid
Memorandum to McGill Administrators: H. Rocke Robertson
Letter to Dr. H. Rocke Robertson: The Interim Executive Committee, McGill Faculty Union
B of G Trying for Renaissance: Robertson Memo Asserts Board's Power in Hiring
Thatcher "Threatens" to Close University
When, If Ever, Do you call in the cops: Escott Reid
Editor's note: Ajax chief quits
9. UGEQ
The Quandary of UGEO: Robert Favreau
10. Recruiting on Campus
Dow Chemical and All That: Melville H. Watkins
Dow to Stay in Napalm
11. The Strax Affair: University of New Brunswick
Strife on Campus: John Braddock
Postscript: John Braddock
12. Freedom: Academic and Otherwise
The Student Version: Claude Bissell
Anarchy plus the Constable: Richard Schultz
13. But Not for the Radical's Woman
Radical Man Rag: Verna Woskoff
SDS Deals with Woman Question: Margie Stamberg
Toward a Female Liberation Movement: Beverly Jones and Judith Brown
Women: The Missing Sex: Sandra Stock
Values Passed on by Education: L'Alliance des Professeurs de Montreal
Why protest of just ask your woman professor: Pauline Jewett, Marion B. Smith, Helen McCrae, Madeleine Gobeil
Equal Pay for equal work
14. Simon Fraser
Committee takes over SFU Department: Douglas Sagi
15. The University and the Community
Big Business: The need to hire radicals: Tim Reid
The U. of T. Committee on University Government
Reform Through Legislation: Tim Reid
Les Travailleurs Etudiants du Quebec: Student Social Action Jean Laliberte
Varsity Downtown Education Project (VDEP)
Protest: The Canadian High School Scene
From the Sayings of Richard J. Needham: Richard J. Needham
16. The Forest Hill Student Protest, April/May 1969
Chronology of Events: Dan Merkur
The "Bill of Rights" of forest hill Collegiate Institute
Forest Hill Students Debate Council Change: Lou Lee
What's behind the Forest Hill School Dispute: Barrie Zwicker
Students Stage Sit-In After Girl Is Suspended
A Composite Interview with Dan Merkur, President of the Forest Hill Student Body
Editors' Postscript to Legislature of Ontario Debates
An Act to Amend the Schools Administration Act: Tim Reid MPP
Principal Predicts Reactionary 70s
17. University Student Power and the High School
Student Power Alive and Well in the High Schools: Lorraine Coopersmith
University and High School Issues Very Similar: Graham Fraser
18. Newfoundland: High School Students Protest
Students Walk Out
The Next Day
19. Teachers' College
50 Student Teachers Denounce College
Dean Rejects Reform, Protect Fizzles Out
On a Visit to the Ontario College of Education: Tim Reid
20. Two Winnipeg Schools
Cecil Rhodes High: A Conventional School: Jim Harding
R.B. Russell Vocational High: A Modern School: Jim Harding
21. Student Rights
Student Records: The Violation of the Individual Rights of Teenagers: Tim Reid
Student Scraps: Valedictory Speech in "Pressures" Protest
If you're unhappy, there's the door: Richard J. Needham
A letter of Concern Regarding the Secondary Schools of Ontario
High school principals plan guidelines to deal with student unrest: Ross Munro
22. British Columbia
Knowplace: An Answer to Boredom: Tony Eberts
23. Some Hope?
Ottawa students want voice in hiring of teachers: Henry Makou
SPEED: Summer of experience, exploration and discovery: The Liber-Action Committee, Student Council of Glendon College
A Minor Reform for High Schools: Tim Reid
Subject Headings