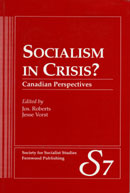 Socialism in Crisis?
Canadian Perspectives
Roberts, Jos.; Vorst, Jesse
Publisher: Society for Socialist Studies/Fernwood Publishing, Winnipeg, Canada
Year Published: 1992
Pages: 240pp Price: $19.95 ISBN: 1-895686-08-3
Inactive Serial
Resource Type: Serial Publication (Periodical)
Cx Number: CX9281
Essays addressing questions such as What is the nature of socialism? How do gender and activism determine the socialist agenda? What is the essence of democracy under socialism?
Abstract:
-
Table of Contents
Introduction and Overview
Jos. Roberts
Introduction et apercu
Jos. Roberts
Chapter 1
Reification and the Crisis of Socialism
Paul Browne
Chapter 2
Marx and Engels and the Exhaustion of "Scientific Socialism"
Max Nemni
Chapter 3
What is Socialism?
Herb Gamberg
Chapter 4
Democracy and Marxist Political Culture
Frank Cunningham
Chapter 5
Socialism Today: Renewal or Retreat?
Gerry van Houton
Chapter 6
Politics of Transformation and the Process of Social Change
Axel Dorscht
Chapter 7
Begetting Babies, Raising Children: The Politics of Parenting
Meg Luxton and Heather Jon Maroney
Chapter 8
Socialism: Past and Future
Cy Gonick
Conclusion
Jos Roberts
List of Contributors
Table of Contents: The Other Annuals
Subject Headings