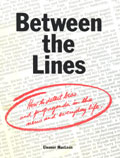 Between the Lines
How to Detect Bias and Propaganda in the News and Everyday Life
MacLean, Eleanor
Publisher: Deveric, Halifax, Canada
Year Published: 1981
Pages: 296pp ISBN: 0-9690919-0-7
Library of Congress Number: P91.M23 Dewey: 302.2'4
Resource Type: Book
Cx Number: CX8412
An exploration of medthods of "dec-doing" our daily newspapers and radio/TV news. Examines our predominant sources of information (mass media) and indicates the existence of many alternative sources of informaiton.
Abstract:
Table of Contents
Preface
Acknowledgements
1. What gave you that idea?
Introduction
Forming opinions
Thinking clearly
The mass media of communication
Further reading
2. Getting the message
Introduction
Determining the overall message
Bias and propaganda techniques
De-coding some messages
News and current events
Mass culture
Impact of propaganda and advertising
Further reading
3. This message was brought to you by . . .
Introduction
1. Where the news comes from
2. Ownership and control
3. How do present trends affect the media's message?
4. Where does government fit in?
5. The global village
6. Isn't there any good news
Further reading
4. Propaganda, bias and point of view
Introduction
The first casualty
The Bloody Road to Zimbabwe
Textual analysis of The Bloody Road to Zimbabwe
The other side of the story
Further reading
5. "Underdevelopment": Case studies
Introduction
Case Study #1: Brazil
Case Study #2: The Atlantic Provinces
Conclusions: Where is the "Third World"?
Further reading
6. Do not adjust . . .
Communication and modern world problems
1. The analysis
Postscript: the experience
2. Resources
Subscriptions/ newsletters
Information centres/ sources
Of interest to educators
Appendices
For Chapter 1:
The Universal Declaration of Human Rights
For Chapter 3:
Atlantic Canada media ownership
Maclean-Hunter
Thomson newspaper chain
Southam
Torstar
A missing section on the elite
For Chapter 4:
Last of the few
Notes
List of tables
Index
Subject Headings