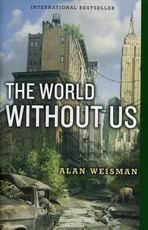 The World Without Us

Weisman, Alan
Publisher: HarperCollins
Year Published: 2007
Price: $18.95 ISBN: 978-1-55468-226-3
Library of Congress Number: GF75.W454 2008 Dewey: 304.2'8
Resource Type: Book
Cx Number: CX8343
A thought experiment to see what would happen to the planet if human beings simply disappeared.
Abstract:
-
Table of Contents
Preface
Part I:
1. A Lingering Scent of Eden
2. Unbuilding Our Home
3. The City Without Us
4. The World Just Before Us
5. The Lost Menagerie
6. The African Paradox
Part II:
7. What Falls Apart
8. What Lasts
9. Polymers are Forever
10. The Petro Patch
11. The World Without Farms
Part III:
12. The Fate of Ancient and Modern Wonders of the World
13. The World Without War
14. Wings Without Us
15. Hot Legacy
16. Our Geologic Record
Part IV:
17. Where Do We Go From Here?
18. Art Beyond Us
19. The Sea Cradle
Coda: Our Earth, Our Souls
Acknowledgments
Select Bibliography
Index
Subject Headings