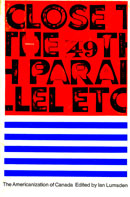 Close the 49th Parallel Etc
The Americanization of Canada
Lumsden, Ian
Publisher: University of Toronto Press, Toronto, Canada
Year Published: 1970
Pages: 336pp Price: $3.75 ISBN: 0-8020-6111-7
Resource Type: Book
Cx Number: CX6725
The increasing Americanization of Canada is now evident to all, and it is also becoming evident that the elites in Canada have been anxious to avoid any confrontation of this fact or any examination of its consequences. This collection of essays attempts to display some of the effects of US corporate imperialism and the permissive policy of its Canadian supporters, to analyse the the ideologies involved, to explain the social, economic and political costs of the process, and to suggest how it might be reversed.
Abstract:
-
Table of Contents
Preface
The Canadian bourgeoisie and its national consciousness
Canadianizing American business: the roots of the branch plant
Foreign ownership and political decay
Lament for a union movement
Canadian defence policy and the American empire
All the news it pays to print
Oh say, can you see?
Yes, cultural imperialism too!
The universities: takeover of the mind
Canada and the American science of politics
The dismal state of economics in Canada
Binding Prometheus
The alienation of Canadian resources: the case of the Columbia River Treaty
Science in Canada-American style
Canada's "national" sport
The Americanization of the Canadian student movement
What can I do right now? Notes from Point Blank School on the Canadian dilemma
Perspectives on un-American traditions in Canada
American Imperialism and Canadian intellectuals
Subject Headings