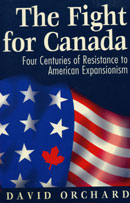 The Fight for Canada
Four Centuries of Resistance to American Expansionism
Orchard, David
Publisher: Stoddart, Canada
Year Published: 1993
Pages: 292pp Price: $17.95 ISBN: 0-7737-5569-1
Library of Congress Number: FC249.073 1993 Dewey: 971
Resource Type: Book
Cx Number: CX6288
In an effort to realize their grand dream of one nation from Panama to the Arctic, Americans have attempted to conquer Canada using war, trade sanctions, and political interventions of all kinds. "That fight for Canada continues to this day," says David Orchard.
Abstract:
-
Table of Contents
Preface
Part One: First Ambition
1. A New Breed of People
2. The Fourteenth Colony
3. To Rival the Exploits of Rome
4. 54 40 or Fight
5. The American Warning
6. Prophet of the New World
7. The Uncrowned King of the Masses
8. Veiled Treason
9. The Yankee to the South of Us Must South of Us Remain
10. Working for Mr. Rockefeller
11. Comic Union
12. In a Class of Its Own
13. We Were Fighting for Canada
14. "You Pissed on My Rug"
Part Two: The Fight of Our Lives
15. The Rabid Nationalist
16. The Most Critical Date on this Continent
17. Crusaders for the Deal
18. Everything We Wanted
19. The Sale of Canada Act
20. It Is Manifest Destiny
21. Closure on Christmas Eve
22. The First Four Years
23. Prying Open Mexico
24. We Don't Scare Easily
25. In Her Hour of Need
Notes
Index
Subject Headings