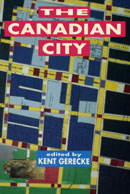 The Canadian City

Gerecke, Kent
Publisher: Black Rose Books, Montreal, Canada
Year Published: 1991
Pages: 268pp ISBN: 0-921689-92-6
Library of Congress Number: HT127.C335 1991 Dewey: 307.760971
Resource Type: Book
Cx Number: CX4485
Based on the belief that a healthy city life is possible, this volume collects articles, stories and histories about the city and its people, covering aspects such as human and social relations, art and architecture, urban planning, land development, and the greening of the urban environment.
Abstract:
This series of articles on the changing Canadian city with contributors such as Hans Blumenfeld, Carolyn Whitzman, John Sewell and activists in Winnipeg's Green Movement, is drawn from the Winnipeg-based City Magazine, the only Canadian magazine on urban thought.
The Canadian City begins with a critical look at urban public policy and its strong connection to capitalist development and the needs of developers. Alternatively, ethical and ecological urban planning would address the needs of citizens and the alienation present in cities.
Using case examples of the Montreal Symphony Orchestra Concert Hall and Toronto's St. Jamestown, The Canadian City emphasizes community involvement in urban design and a community economic development model.
In protecting the environment and well-being necessary for survival, <169>green cities<170> arise out of a clear analysis of our underlying assumptions and embody humane urban policies and planning. Empowerment of citizens would replace their domination by experts.
Each of the six parts has an introductory summary of the section's contents and three articles.
Table of Contents
Notes on Contributors
Introduction
Thinking about the city by Kent Gerecke
PART I - THE CHANGING CITY
The story of the new middle class by Barton Reid
Old and new city by John Sewell
Small talk in the big city by Lorne Foster
PART II - URBAN THEORY
A critical theory of public policy by Harold Chorney
Primer on the corporate city by Barton Reid
Principles of Community economic development by Marcia Nozick
PART III - URBAN PLANNING
Origins of Canadian city planning by Tom Gunton
Reordering of city planning by Rod Nasewich
False prophets by Kent Gerecke and Barton Reid
PART IV - URBAN DESIGN
Concerto grosso by Jeanne Wolfe
Community and design by Carolyn Whitzman
War against the street by Kent Gerecke
PART V - HOUSING
Gentrification by David Ley
Mismatch between size of households and dwelling units by Hans Blumenfeld
Social Welfare versus market Welfare by David Hulchanski
PART VI - GREEN CITIES
Patrick Geddes by Kent Gerecke
Green city by Kathryn Cholette, Ross Dobson, Kent Gerecke, Marcia Nozick, Roberta Simpson and Linda Williams
Empowerment, architecture and city planning by Kent Gerecke
POSTSCRIPT
Subject Headings