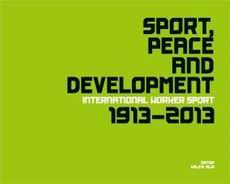 Sport, Peace and Development: International Worker Sport 1913-2013
A festschrift book in honour of International Workers and Amateurs in Sports Confederation (CSIT)
Olin, Kalevi
Publisher: CSIT
Year Published: 2013
Pages: 159pp ISBN: 9783950359312
Resource Type: Book
Cx Number: CX18440
Sport is seen to play an important role as a promoter for peace and social integration in different geographical, cultural and political contexts.
Abstract:
From publisher:
This Festschrift book describes the 100 years development, the current state and the future international sports partnerships of the International Workers and Amateurs in Sports Confederation (CSIT). It also predicts that women might be the future of sport.
This book tells us how and why the world organization having more than 208 million registered clients and members in 44 member organizations from 34 countries has grown to a player in sport for all movement in Europe, Americas, Africa and Far East.
Subject Headings