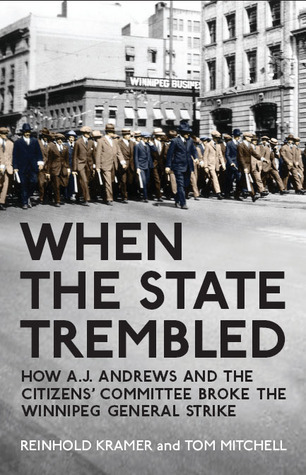 When the State Trembled
How A.J. Andrews and the Citizens' Committee Broke the Winnipeg General Strike
Kramer, Reinhold; Mitchell, Tom
Publisher: University of Toronto Press, Toronto, Canada
Year Published: 2010
Pages: 464pp ISBN: 9781442611160
Library of Congress Number: HD533.W5K73 2010 Dewey: 331.892
Resource Type: Book
Cx Number: CX15995
Recovers the story of how the business elite-led Citizens' Committee of 1000 crushed the Winnipeg General Strike of 1919.
Abstract:
The Winnipeg General Strike of 1919, which involved approximately 30,000 workers, is Canada's best-known strike. When the State Trembled recovers the hitherto untold story of the Citizens' Committee of 1000, formed by Winnipeg's business elite in order to crush the revolt and sustain the status quo.
This account reveals that the Citizens drew upon and extended a wide repertoire of anti-labour tactics to undermine working-class unity, battle for the hearts and minds of the middle class, and stigmatize the general strike as a criminal action. Newly discovered correspondence between leading Citizen lawyer A.J. Andrews and Acting Minister of Justice Arthur Meighen illuminates the strategizing and cooperation that took place between the state and the Citizens. While the strike's break was a crushing defeat for the labour movement, the later prosecution of its leaders on charges of sedition reveals abiding fears of radicalism and continuing struggles between capital and labour on the terrain of politics and law.
[From publisher]
Table of Contents
Acknowledgements
Introduction
1. Permitted by Authority of the Strike Committee 15 - 19 May
2. Who? Who? Who-oo?
3. Seven Hundred and Four Years Ago at Runnymede
4. The Anointing of A.J. Andrews
5. The Flag-Flapping Stage
6. To Reach the Leaders in this Revolutionary Movement
7. Time to Act
8. Enough Evidence to Convict the Whole Strike Committee
9. The Road through Bloody Saturday
10. The Only Way to Deal with Bolshevism
11. They are all dangerous: Immigration Hearings
12. They Started the Fire: Preliminary Hearing
14. Duty to God, Country, and Family: The Russell Trial
Epilogue: Echo
Notes
Index
Subject Headings