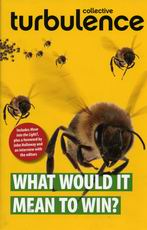 What Would it Mean to Win?
Turbulence collective
Publisher: PM Press
Year Published: 2010
Pages: 160pp ISBN: 978-1-60486-110-5
Resource Type: Book
Cx Number: CX12581
Where is the movement today? Where is it going? Are we winning? The authors of the essays in this volume pose these and other momentous questions.
Abstract:
-
Table of Contents:
Preface
Hope moves faster than the speed of thought
Are we "winning"?
Politics in an age of fantasy
Enclosing the enclosers
Singularisation of the common
A new weather front
Money for nothing?
Walking in the right direction?
Organise local, strike global
Solidarity economics
Compositional power
"Becoming-Woman?" In theory or in practice?
Politicising sadness
Worlds in motion
Commonism
The crazy before the new
Move into the light?
A conversation with the Turbulence Collective
Subject Headings