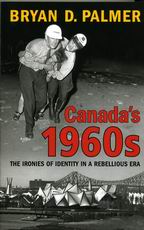 Canada's 1960s
The Ironies of Identity in a Rebellious Era
Palmer, Bryan D.
Publisher: University of Toronto Press, Toronto, Canada
Year Published: 2008
Pages: 480pp ISBN: 978-0-8020-9659-3
Library of Congress Number: FC625.P34 2009 Dewey: 971.064'3
Resource Type: Book
Cx Number: CX12467
A history of social movements of the 1960s, including student and anti-war movements, the rise of women's liberation, labour struggles, and Quebec nationalism.
Abstract:
-
Table of Contents
Acknowledgments
Prologue: Canada in the 1960s: Looking Backward
Part 1: Money and Madness in the Shadow of Fear
1. When the Buck was Bad: The Dollar and Canadian Identity Entering the 1960s
2. Shelter from the Storm: The Cold War and the Making of Early 1960s Canada
Part 2: National Identity and the Challenge of Change: From Munsinger to Trudeau
3. Scandalous Sex: A Cold (War) Case
4. Canada's Great White Hope: George Chuvalo vs Muhammad Ali
5. Celebrity and Audacity: Marshall McLuhan, Pierre Elliott Trudeau, and the Decade of the Philosopher King
Part 3: Suggestion of Tumult
6. Riotous Victorianism: From Youth Hooliganism to a Counterculture of Challenge
7. Wildcat Workers: The Unruly Face of Class Struggle
Part 4: Radicalism, Revolution, and Red Power
8. New Left Liberations: The Poetics, Praxis, and Politics of Youth Radicalism
9. Quebec: Revolution Now!
10. The 'Discovery' of the 'Indian'
Part V: Conclusion
11. Ironic Canadianism: National Identity and the 1960s
Notes
Index
Subject Headings