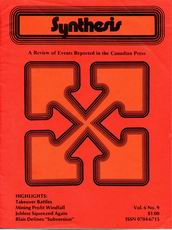 Synthesis: A review of events reported in the Canadian press
Volume VI Number 9
/CxArchive/Synthesis-1978-Volume06-Number09.pdf
/CxArchive/Synthesis-1978-December-v6n9.html
Publisher: Canadian News Synthesis Project, Toronto, Canada
Date Written: 31/12/1978
Year Published: 1978
Pages: 20pp
ISSN: 0704-6715
Inactive Serial
Resource Type: Serial Publication (Periodical)
Cx Number: CX12227
Synthesis is the journal of the Canadian News Synthesis Project. Previously known as the Canadian News Synthesis Project (1974 - 1976), Synthesis analyzes and presents current news coverage of the most important economic, political and cultural forces in Canadian Society, using major newspapers from across the country.
December 1978 issue.
Abstract: This issue highlights Canada's corporate leaders and takeover battles - the Hudson Bay Company buys Simpson's, Sears controls Simpson's-Sears, Noranda expands, and Canada's forest industry heads for a major consolidation of power; 1978 a good year for Canadian mining; Liberal government continues "restraint" program at expense of working people and the unemployed; allowable UI benefits reduced; Solicitor-General Jean-Jacques Blais visits Richlieu Club, defines "subversion".
Subject Headings