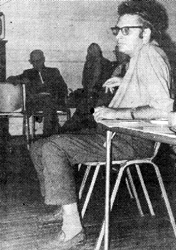 NORM BROWNE: For about six of the past ten years, it was almost true to say that Norm Browne was Seven News. Norm was one of the founding members, had an article in the first issue, set up the distribution network, and, not too long after the paper got underway, became the paper's editor, a post he held until late 1976. Even though 7 News was a community newspaper shaped by the efforts and talents of hundreds of people, it remained true that Norm as editor and managing editor was the single most dominant influence on the paper in the years of his stewwardship. His writing and editing helped to produce a paper that was often exciting because it was engaged, opinionated, and controversial. He also played an important role in administering Seven News and steering it through the financial problems it faced.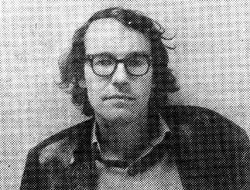 JOHN SEWELL: Elected a first-term alderman for the newly created Ward 7 in December 1969, Sewell's main campaign promise was to try to help organize a community newspaper. From his initiative a series of public meetings resulted which launched 7 News the following May. Sewell was very active with 7 News early on, making substantial contributions of money and time. After a period of time, he developed disagreements with the way 7 News was evolving, and ceased to be involved.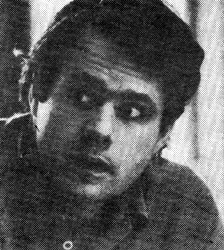 JOHN PIPER: John is well-known throughout the community for his tremendous energy and organizational talents, and 7 News has been one of the beneficiaries of those attributes. John has served two years on the board, one as chairman, and has always been one of the paper's main supporters on the fundraising front. Most recently, he was one of the main organizers of the Ward 7 musical Dammed if You Do! which, besides being a success in its own right, added $5,000 to the 7 News coffers.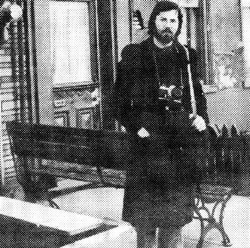 GEORGE RUST-D'EYE: George Rust-D'Eye is the author of the popular series of articles, "Mememtoes of Yesteryear", which have appeared in 7 News for a number of years themselves.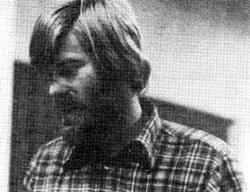 DAVID RUPPEL: David first joined 7 News as distribution manager in 1973. While he worked at the paper, David also learned the paste-up job, and eventually took over that position as well. David later gave up distribution and then took over the advertising department and revitalized it. As much as by the work he did, David contributed to 7 News by his strong interest in the overall direction of the paper. His strong leadership role in a number of critical situations substantially affected the direction of the paper, especially when issues of control and staff democracy were being agonizingly worked through by the board and staff of the paper.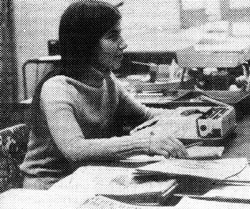 MARGARET WATSON: Seven News' business manager since the summer of 1978, Margaret has had the extremely unenviable task of handling 7 News' financial affairs in its most difficult period ever, a time when things have been so tight that the paper couldn't even afford to pay her much of the time. In the 7 News tradition, Margie has also worked on almost every area of the paper: she has sold advertising, done the paste-up, worked on fundraising, and driven the van on distribution days. She is also a member of the 7 News Board of Directors. Margie is currently taking maternity leave, but will be resuming part-time work at the paper shortly.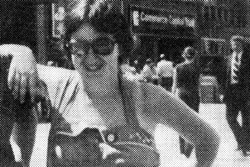 RHONDA SUSSMAN: Rhonda is 7 News' new production and paste-up person, and is also doing a good deal of work on the editorial side of the paper.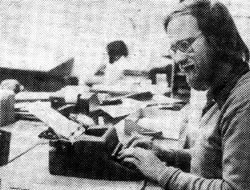 ULLI DIEMER: Seven News' editor since November 1976, Ulli originally joined the staff in November 1975 as business manager and volunteer co-ordinator. He became editor upon the departure of Norm Browne, and has also worked, sometimes without pay, as distribution manager, truck driver, lottery co-ordinator, fundraiser, and paste-up person. He has served on the Board of Directors as well. After 4 1/2 years as "full-time and then some" staff person at 7 News, Ulli started working part-time. "I want to have some time for other things besides 7 News," he says. Those "other things", however, include doing some more writing for 7 News, something he says he hasn't had time for in recent months. See www.diemer.ca.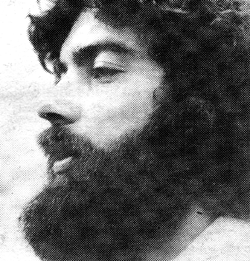 THOM CORBETT: Thom first joined 7 News as a volunteer reporter in 1975, and shortly thereafter was elected to the Board of Directors for a two year term. While completing a journalism course at Ryerson, Thom continued to work at 7 News as a volunteer writer and then joined the paid staff in the summer of 1978 as layout and advertising manager. Thom left the paper last summer to pursue a course of religious studies.
CHERRY HASSARD: Cherry takes most of the pictures you see in 7 News, but is rarely caught in front of the camera herself. A dedicated supporter of 7 News, she has helped the paper in a number of ways, including legal advice and fundraising.
CAROLYN BARBER: Carolyn first joined 7 News as advertising manager and then returned to serve a two-year term as board member, one of those years as chairman of the board. Her energetic leadership did a lot to get the board moving again after a preceding period of stagnation. Carolyn is continuing to work with 7 News, currently as a fundraiser.
DOROTHY BUSHEY: Working quietly and reliably from her home, Dorothy sends out 7 News' bills every issue, and has been doing so for about four years.
SAVIO LAM: Until new work commitments made it impossible recently, Savio Lam was responsible for the distribution of 7 News along several key routes and did his job with a reliability that was remarkable.
DAVID McLAREN: David is 7 News' new advertising manager. David also works part-time for Ward 8 News.
RALPH CUNNINGHAM: For 8 years, Ralph worked at one of the "invisible" tasks at 7 News: mailing out the subscriptions every two weeks.
BAIN CO-OP: The Bain Apartments Co-operative at 100 Bain Avenue has been one of the most supportive areas for 7 News through the years. It has given the paper more staff, more volunteers, and more donations than any neighbourhood of comparable size anywhere in the ward.
EAST TORONTO TRAINING CENTRE:
Under the administration of Mrs. Kay Hughes, a group of retarded adults at the East Toronto Training Centre pitch in every issue, and have for years, to get 7 News out to quite a few streets in the Riverdale area
This article was published in Seven News, Volume 10, Number 23, May 23, 1980