Private school debate grows
By Marissa Nelson
May 25, 2001
Proposed legislation amounts to a subsidy for rich parents, opponents to Bill 45 say
A cross-section of education and community advocates yesterday bolstered the chorus of opposition to the province's plan to aid private schools through a tax credit for parents.
At a press conference at the historic Enoch Turner Schoolhouse, Toronto's first free school, a 10-person panel argued that the move would impede cultural integration and amount to a gift for the rich.
Clayton Ruby, a Toronto civil-rights lawyer, said he doesn't think Ontario residents are prepared to hand over money to the rich as the government proposes in Bill 45.
"I can't see why anyone should be subsidizing me at my income to send my kid to a private school," Mr. Ruby said.
"What the public-school system does that is irreplaceable is teach people tolerance."
While Mr. Ruby vowed to call his MPP to "yell and scream", he is also raised the hotly debated issue of Catholic schools getting money from public coffers.
"One wonders why the Constitution, which at the moment requires funding for Catholic schools, has to remain that way," he said. "It's a long time since the Catholics were an oppressed minority."
But not everyone is opposed to Bill 45. Ed Morgan, chairman of the Canadian Jewish Congress, says the proposed legislation is long-awaited relief for Jewish parents who pay for their children to go to independent religious schools.
"We were out there surviving in a sea of indifference. This is the first government who thrown us a lifeline," he said in an interview.
At yesterday's press conference, Liz Sandals, chairwoman of the Ontario Public School Board Association, argued that a healthy public-school system is an integral part of successful multiculturalism.
"We believe in a multicultural, multireligious society," she said. "It's absolutely essential that our children have an opportunity to work and play together."
Ms. Sandals painted a grim picture for rural public schools if Bill 45 is accepted because it will lure children into the private system, she said.
"If those children leave the public schools and go to the private schools, then the small rural schools that we're struggling to keep open aren't going to be able to stay open," she said. "The rural communities will be losing the only schools in town."
Ms. Sandals reiterated her call for the government to hold public meetings, as was done when Catholic schools received full public funding.
"This is the most significant change in education policy in the history of Ontario, and it deserves full public hearing, full public discussion, not sliding it in the back door in a budget," she said.
One parent who was at the press conference said that while she's not optimistic about stopping Bill 45, she strongly disagrees with it.
"I could afford to send my kids to private school but I choose not to because I want them to be integrated," Miriam Garfinkle, a mother of two, said. "I think private school does the opposite. It takes them out of that."
The Ontario Federation of Home and School Associations has sent out 17,000 pamphlets about Bill 45.
Related Topics: Private Schools – Public Education – School Funding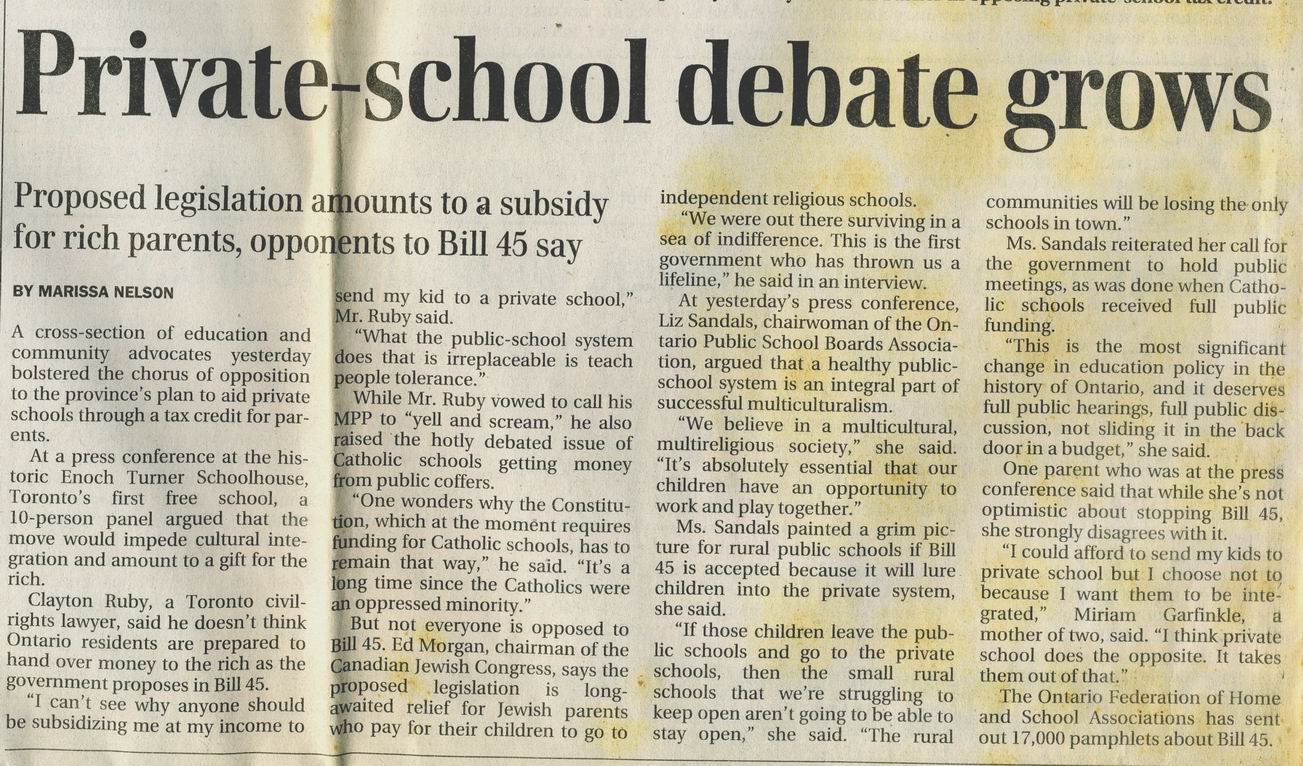 ---