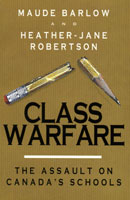 Class Warfare
The Assault on Canada's School
Barlow, Maude; Robertson, Heather-Jane
Publisher: Key Porter Books, Toronto, Canada
Year Published: 1994
Pages: 276pp Price: $19.95 ISBN: 1-55013-559-7
Library of Congress Number: LA412.B37 Dewey: 370`.971
Resource Type: Book
Cx Number: CX9032
The authors show that the attack on schools has been mounted by representatives of big business who stand to make a fortune by privatizing education, aided by the religious right, who want to control what is taught -- and not taught -- in our schools.
Abstract:
Class Warfare is a book in defence of the Canadian public school system. It claims that Canada's schools give the country a high literacy rate, turn out students who advance technology and science, and teach the kinds of values that benefit our society. Barlow and Robertson analyze the claims made against the schools, calling many of them myths. They believe that the call for change is coming from big businesses that would profit from privatized schooling. Defending the principles and curriculum of the school system, they examine the present condition of public education and find it satisfactory.
The book begins with an Introduction called Tell Me What Happened At School, which gives a brief explanation of the current public opinion and the attacks made on the school system. The first part of the book is divided into three chapters, each debunking a myth: Our Schools Have Failed Us...and Our Kids, Our Graduates Just Don't Have the Skills, and Big Business is Creating Highly Skilled Jobs. Using statistics from accountable sources and new analyses of these figures, they show that drop out-rates are not telling of the school's effectiveness. Illiteracy is actually very low in Canada in comparison with other countries. Unemployment in graduating students is due to lack of jobs, as opposed to lack of skills.
Part 2 includes chapters called The Armies of the Right, What Does Big Business Really Want, Hijacking a Culture, and The Right Wing Alliance and the Politics of Education. They look into the motives behind big business, right wing, and religious interest in changing public schools. In Part 3, Barlow and Robertson explain what the right wing intends to do in restructuring the school system, and then recommend their own solutions. They examine the potential political and social consequences of the proposed plan. The Conclusion, called Dear Friends of Public Education, includes letters to teachers, the minister of education, members of the press, parents and students. The letters aim to create involvement in defending the school system and preserving the principles that make it great, while still improving to make it better.
[Abstract by Mia Manns]
Table of Contents
Preface
Introduction: Tell Me What Happened At School
Part One: The Assault On Schools
Myth # 1: Our Schools Have Failed Us.. and Our Kids
Myth #2: Our Graduates Just Don't Have the Skills
Myth #3: Big Business Is Creating Highly Skilled Jobs
Part Two: The Armies of the Right
What Does Business Really Want?
Hijacking a Culture
The Right-Wing Alliance and the Politics of Education
Part Three: Remodelling Education
Restructuring from the Right
Renovating the Student
Retooling the Politics of Choice
Retrofitting Alberta
Conclusion: Dear Friends of Public Education
Notes
Index
Subject Headings