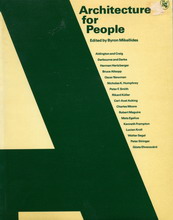 Architecture for People

Mikellides, Byron (ed.)
Publisher: Holt Rinehart Winston, United Kingdom
Year Published: 1980
Pages: 192pp ISBN: 0-03-057489-7
Resource Type: Book
Cx Number: CX8651
A book of possible solutions for the problems of modern architecture.
Abstract:
Architecture for People is a book of possible solutions for the problems of modern architecture. Over the years, many have attacked modern architecture for neglecting human needs and preventing social activity. This book does not further define the issue, but provides the visions of
many experts. Their visions are for more community-based urban planning and structures that appeal more to groups of all ages. The book is a collection of essays, accompanied by pictures, drawings and blueprints, by respected and highly acclaimed architects.
The contributors aim to change the traditional conventions of architecture. Some focus on the construction of residences, while others describe how whole neighbourhoods can be brought closer by changing the designs of the buildings. Many thinkers advocate living in collectives to
create a community with shared resources and means of recreation. The ideas can be considered separately or in combination, for none of the authors claim to have created the ideal situation.
The essays focus on the aesthetics, emotions and necessities of the structures. Conventions of modern architecture prevent people from seeing how their needs can be met in their place of dwelling. It is the job of these architects to suggest new ways of living that incorporate these
needs. Different methods are suggested, but the consensus is the same. We must break free of a fixation on traditional architecture to bring the humanity back into the living space.
[Abstract by Mia Manns]
Table of Contents:
Preface
Architectural psychology and the unavoidable art - Byron Mikellides
Understanding people and developing a brief - Aldington and Craig
Social needs and landscape architecture - Darbourne and Darke
Shaping the environment - Herman Hertzberger
Educating the client - Bruce Allsopp
Whose failure is modern architecture? - Oscar Newman
Natural aesthetics - Nicholas K. Humphrey
Urban aesthetics - Peter F. Smith
Architecture and Emotions - Rikard Kuller
Humanity in the built environment - Carl-Axel Acking
Human energy - Charles Moore
A conflict between Art and Life? - Robert Maguire
Housing and human needs: the work of Ralph Erskine (with original sketches by Ralph Erskine)
The disappearing factory: the Volvo experiment at Kalmar - Kenneth Frampton
Architecture and bureaucracy - Lucien Kroll
The housing crisis in Western Europe: Britain assessment and options - Walter Segal
Models of man in Castlebridge and Milton Keynes - Peter Stringer
The biosphere and man: some reflections on technology and tact - Gosta Ehrensvard
Appendix on human needs - Byron Mikellides
Subject Headings