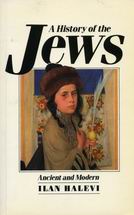 A History of the Jews - Ancient and Modern

Halevi, Ilan
Publisher: Zed Books, London, United Kingdom
Year Published: 1987
Pages: 258pp ISBN: 0-86232-532-3
Library of Congress Number: DS117 Dewey: 909.04924
Resource Type: Book
Cx Number: CX8510
Starting from a political interpretation of the period when judges, kings and prophets held sway over Israel and Judah, Ilan Halevi traces the evolution of the Jewish identity through its numerous stages, from the Roman occupation and the decline of Temple authority, through to the Zionist settlement of Palestine in the twentieth century.
Abstract:
-
Table of Contents
Part I: The Tribe
Part II: The Law
1. Year Zero
2. The Law of the Desert
3. Prophecy and Priesthood
4. Sects and Schools
5. The New Concordat
6. The Talmud
Part III: The Domain
7. Andalusia: The Golden Age
8. Islam and Judaism
9. Christianity and the Jews
Part IV: Europe
10. Ashkenazi in Germany
11. The Khazar Hypothesis
12. Poland
13. A People-class?
14. The Shtetl: A Mini-city
15. Hasidism
Part V: The Crisis
16. Emancipation and Anti-Semitism
17. The New Ideas
18. Zionism
Part VI: Palestine
19. Labour Zionism
20. The Arabs
Part VII: Israel
21. The Oriental Jews
22. Lot's Wife
23. White Jew, Black Jew
Part VIII: By Way of Conclusion
Subject Headings