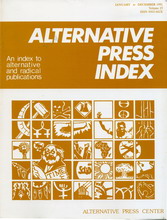 Alternative Press Index
An index to alternative and radical periodicals
http://www.altpress.org
Publisher: Alternative Press Center, Baltimore MD 21218, USA
Year Published: 1996
Pages: 116pp Price: $35/yr Resource Type: Serial Publication (Periodical)
Cx Number: CX8378
An index to alternative and radical publications, published quarterly in print and also available on CD-ROM.
Abstract:
The Alternative Press Index is a biannual subject index to over 300 alternative, radical and left periodicals, newspapers and magazines. Librarians consider the API to be the most comprehensive and up-to-date guide to alternative sources of information available today. Each article is listed and cross-referenced by subject. Every citation contains the title, author and information about the publication in which it is located.
The Alternative Press Index (API) was born with the New Left of the 1960's. It was launched in 1969 to provide access to the practices and theories of radical social change. The Index is international and interdisciplinary, spanning the social sciences and humanities, with its central focus on the practice and theory of socialism, national liberation, labor, indigenous peoples, gays/lesbians, feminism, ecology, democracy, and anarchism. It strives to be as comprehensive as possible.
The Alternative Press Index is published biannually in April and October. Each issue is approximately 750 pages in length. Each issue contains complete subscription information for the publications indexed, as well as a selection of abstracts from 50 research journals.
Subject Headings