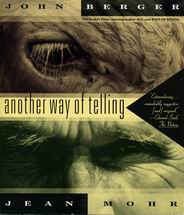 Another Way of Telling

Berger, John; Mohr, Jean
Publisher: Vintage, New York, USA
Year First Published: {14505 Another Way of Telling ANOTHER WAY OF TELLING Berger, John; Mohr, Jean Vintage New York USA Everyone in the world is familiar with photographs. And yet what is a photograph? What do photographs mean? How can they be used? 1982 1995 302pp $32.00 BC14505-WayofTelling.jpg B Book 0-679-73724-3 TR183.B45 770'.1 Another Way of Telling, co-authored by art critic Berger and Swiss photographer Mohr, examines the lives of mountain peasants through photographs and examines several questions about photography as a practice and art form including: What is a photograph? What do photographs mean? How can they be used? And how do photographs ascribe meaning to facts? Each of the book's five parts illuminates a different aspect of photography, while balancing the moral concerns of the critic and the practice of the photographer. <br> <br>In the first section Jean Mohr writes about his experiences as a photographer, especially those which illustrate the medium's ambiguity. Thus, he examines the tensions between the photographer and the photographed; the picture and its viewers and filmed moments and memories. In contrast, the second portion of the book is a theoretical essay on photography, which discusses the meaning of appearances in themselves. The third section differs from the preceding portions, such that it refrains from the use of any words. The reader/viewer is provided with a sequence of 150 photographs entitled "If Each Time" that reflect on the life of a peasant woman. The authors hope this sequence is interpreted as a work of the imagination. The subsequent portion discusses some of the theoretical implications of how the story is told to the reader in "If Each Time," while the final section returns to a brief collection of pictures that display the life of mountain peasants. <br> <br>[Abstract by Amanpreet Dhami] <br> <br> <br> <br>- <br> <br>Table of Contents <br> <br>Preface <br>Beyond my camera <br>Appearances <br>If each time … <br>Stories <br>Beginning <br>List of Photographs CX7899 1 false true false CX7899.htm [0xc000edb800 0xc001deacc0 0xc0020be990 0xc000fd6690 0xc000ff8a80]}
Year Published: 1995
Pages: 302pp Price: $32.00 ISBN: 0-679-73724-3
Library of Congress Number: TR183.B45 Dewey: 770'.1
Resource Type: Book
Cx Number: CX7899
Everyone in the world is familiar with photographs. And yet what is a photograph? What do photographs mean? How can they be used?
Abstract:
Another Way of Telling, co-authored by art critic Berger and Swiss photographer Mohr, examines the lives of mountain peasants through photographs and examines several questions about photography as a practice and art form including: What is a photograph? What do photographs mean? How can they be used? And how do photographs ascribe meaning to facts? Each of the book's five parts illuminates a different aspect of photography, while balancing the moral concerns of the critic and the practice of the photographer.
In the first section Jean Mohr writes about his experiences as a photographer, especially those which illustrate the medium's ambiguity. Thus, he examines the tensions between the photographer and the photographed; the picture and its viewers and filmed moments and memories. In contrast, the second portion of the book is a theoretical essay on photography, which discusses the meaning of appearances in themselves. The third section differs from the preceding portions, such that it refrains from the use of any words. The reader/viewer is provided with a sequence of 150 photographs entitled "If Each Time" that reflect on the life of a peasant woman. The authors hope this sequence is interpreted as a work of the imagination. The subsequent portion discusses some of the theoretical implications of how the story is told to the reader in "If Each Time," while the final section returns to a brief collection of pictures that display the life of mountain peasants.
[Abstract by Amanpreet Dhami]
-
Table of Contents
Preface
Beyond my camera
Appearances
If each time …
Stories
Beginning
List of Photographs
Subject Headings