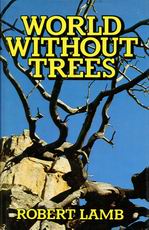 World Without Trees

Lamb, Robert
Publisher: Paddington Presstd, New York, USA
Year Published: 1979
Pages: 223pp ISBN: 0-448-22619-7
Library of Congress Number: QK477.L32 Dewey: 582'.16
Resource Type: Book
Cx Number: CX7760
Lamb says that "there is one thing of which you can be absolutely certain: if things go one as they are, some day the sun will rise on a world without trees. That day is closer than you think."
Abstract:
-
Table of Contents
Foreword
1. Wooden Dinosaurs
2. Trees and the Quantity of Life
3. Portrait of a Tree
4. Disease Despite Itself
5. America's Little Hatchet
6. Fall into Winter
7. Shadows on the Forest
8. Death of Hedgerows
9. Who Needs Wood?
10. A Future for Elms … and for All Trees
Footnotes
Appendix: Organizations Currently Involved with Tree Conservation
Bibliography
Index
Subject Headings