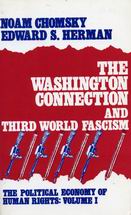 The Washington Connection and Third World Fascism
The Political Economy of Human Rights: Volume 1
Chomsky, Noam; Herman, Edward S.
Publisher: Black Rose Books, Montreal, Canada
Year Published: 1979
Pages: 442pp ISBN: 0-919618-88-X
Library of Congress Number: E744.C52 Dewey: 327.73'0172'4
Resource Type: Book
Cx Number: CX7722
Chomsky and Herman demonstrate, with devasting logic and overwhelming documentation, that the purpose of U.S. global policy is to make the world safe for exploitation by U.S. corporate interests and that this has required and continues to require the installation and support of brutal military/police dictatorships throught the Third World. It also requires an apologetic ideology which portrays all this as being in the highest interests of democracy and human rights.
Abstract:
-
Table of Contents:
Frontispiece: The Sun and Its Planets
Preface
A Prefatory Note by the Authors on the History of the Suppression
of the First Edition of this Work
1.Introduction: Summary of Major Findings and Conclusions
2. The Pentagon - CIA Archipelago
2.1 Neo-Colonialism and the Washingon Connection
2.1.1 The Systematic Positive Relationship between U.S. Aid and Human Rights Violations
2.1.2 U.S. Military and Police Aid and Training and the Spread of Fascism
2.1.3 Th Scope and Variety of CIA Subversive Activities
2.1.4 The Pre-Eminence of Favorable Investment Climate
2.1.5 The Economic Role of Terror: Preserving and Enlarging Military, Comprador and Foreign
Income Shares
2.1.6 Counterrrevolution and the "Shakedown" States
2.2 Brainwashing Under Freedom
2.2.1 Sources and Processes
2.2.2 The Case of the Lost Bloodbath: The Supply of and the Demand for Commuist Atrocities
3. Benign Terror
3.1 The Semantic of Terror and Violence: Retail Violence as "Terror" - Wholesale
Violence as Maintaining "Order" and "Security"
3.2 Benign and Constructive Terror
3.3 Post-Colonial Rot and Permanent Counterrevolution
3.4 Benign Terror
3.4.1 East Pakistan: Tilting Towards Massacre
3.4.2 Burundi: "The Limitations of U.S. Power"
3.4.3 The Indians of Latin America: The Non-Civilized in the Way of "Progress"
3.4.4 East Timor: Genocide on the Sly
4. Constructive Terror
4.1 Indonesia: Mass Extermination, Investors' Paradise
4.2 Thailand: A Corrupt "Firm Base"
4.3 Repacification in the Philippines
4.4 The Dominican Republic: U.S. Model for Third World Development
4.5 Latin America: Proliferating Subfascism
4.5.1 The Nazi Parallel: The National Security State and the Churches
4.5.2 Notes on Some Insecurity States in Latin America
5. Bloodbaths in Indochina: Constructive, Nefarious and Mythical
5.1 Constructive Bloodbaths in Vietnam
5.1.1 French and Diemist Bloodbaths
5.1.2 The Overall U.S. Assault as the Primary Bloodbath
5.1.3 Operation SPEEDY EXPRESS
5.1.4 The 43-Plus My Lais of the South Korean Mercenaries
5.1.5 Phoenix: A Case Study of Indiscriminate "Selective" Terror
5.1.6 The Last Years of the Thieu Regime
5.2 Nefarious and Mythical Bloodbaths
5.2.1 Revolutionary Terror in Theory and Practice
5.2.2 Land Reform in the Mid-Fifties
5.2.3 The Hue Massacre of 1968
Appendix: Indochina - Quang Ngai Province Five onths After the Peace Agreement:
Arrests, Tortures, Artillery Fire Continues as Before the Ceasefire
Footnotes
Index
Subject Headings