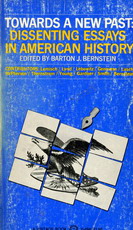 Towards a New Past
Dissenting Essays in American History
Bernstein, Barton J.
Publisher: Vintage Books, New York, USA
Year Published: 1969
Pages: 364pp
Resource Type: Book
Cx Number: CX7683
A critical look at established views of American history.
Abstract:
-
Table of Contents
Introduction
1. The American Revolution Seen from the Bottom Up
2. Beyond Beard
3. The Jacksonian: Paradox Lost?
4. Marxism Interpretation of the Slave South
5. The Antislavery Legacy: From Reconstruction to the NAACP
6. Urbanization, Migration, and Social Mobility in Late Nineteenth-Century America
7. American Expansion 1870-1900: The Far East
8. American Foreign Policy 1900-1921: A Second Look at the Realist Critique of American Diplomacy
9. American Foreign Relations 1920-1942
10. The New Deal: The Conservative Achievements of Liberal Reform
11. America in War and Peace: The Test of Liberalism
12. The Cultural Cold War: A Short History of the Congress for Cultural Freedom
Notes on Contributors
Subject Headings