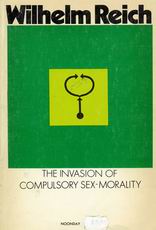 The Invasion of Compulsory Sex-Morality
Reich, Wilhelm
Publisher: Doubleday, Toronto, Canada
Year Published: 1971
Pages: 215pp
Resource Type: Book
Cx Number: CX7480
Abstract:
-
Table of Contents
Preface to Third (first English language) Edition (1951)
Preface to the Second Edition (1934)
Preface to the First Edition (1931)
Part I The Origins of Sexual Repression
1. Sex-Economy in Matriarchal Society
2. Economic and Sexual Contradictions among the Trobrianders
3. The Invasion of Sex-Negative Moralism
4. Primitive Work-Democracy - Mother-Right; Father-Right
5. Confirmation and Revisions of the Morgan-Engels Theory
6. The Origin of Clan Division and the Incest Taboo
Part II The Problem of Social Sex-Economy
Appendix: Roheim's "Psychoanalysis of Primitive Cultures"
Index
Subject Headings