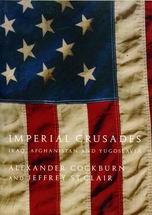 Imperial Crusades
Iraq, Afghanistan and Yugoslavia: A Diary of Three Wars
Cockburn, Alexander; St. Clair, Jeffrey
Publisher: Verso, New York, USA
Year Published: 2004
Pages: 378pp ISBN: 1844675068
Library of Congress Number: DS79.76.146 2004-03 Dewey: 973.931 22
Resource Type: Book
Cx Number: CX7467
Iraq was just one of three major imperial crusades in the decade after 1992, orchestrated by a new generation of American politicians, both Democrat and Republican, who backed pre-emptive strikes to overthrow unruly regimes in Yugoslavia and Afghanistan under the pretext of humanitarian intervention. Imperial Crusades chronicles the lies that are now returning almost daily to haunt the liars in Washington and London, the secret agendas and the under-reported carnage of these wars.
Abstract:
Imperial Crusades attempts to expose the lies of the media and the U.S. government regarding the War on Terror. Editors Authors Alexander Cockburn and Jeffrey St. Clair claim that the media has ignored countless injustices imposed by American foreign involvement. They research the history and current state of the conflict.
The book is written as if it were a diary recounting the events of the past decade. Various contributors include historians, economists, psychologists, human rights lawyers, ex-marines and former senior C.I.A. analysts. They chronicle their experiences of the conflict and describe their own personal involvement. These first-hand accounts reveal many events that have been hidden by the media. The sources are deeply connected parties with inside information.
There are four parts to this volume. Part One is called The Laptop Bombardiers and the Yugoslav Campaign. It goes back to the beginning of the U.S. campaign against Iraq and examines the media's reaction to their sanctions, bombings and assassinations. The Overview in Part Two begins with the tragic event on September 11 and claims a hidden government agenda. The last two parts are War on Iraq and The Thirteen Years' War.
Published in 2004, this book reminds readers that the conflict between the U.S. and Iraq has gone on for much longer than the media would have us believe. It started a long time ago and has escalated to the point where the occupation cannot be removed without causing a civil war. The media can no longer hide the acts of violence and a foreign policy that benefits only the super power that is the U.S.
[Abstract by Mia Manns]
Table of Contents
PART ONE: The Laptop Bombardiers and the Yugoslav Campaign
PART TWO: Overview
PART THREE: War on Iraq
PART FOUR: The Thriteen Years' War
Index
Subject Headings