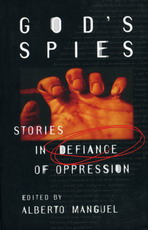 God's Spies
Stories in Defiance of Oppression
Manguel, Alberto (ed.)
Publisher: Macfarlane Walter & Ross, Toronto, Canada
Year Published: 1999
Pages: 408pp Price: $27.95 ISBN: 1-55199-040-7
Library of Congress Number: PN6120.95.P57G621999 Dewey: 808.83'8108
Resource Type: Book
Cx Number: CX7437
Short stories on the theme of resistance to oppression.
Abstract:
God's Spies is a collection of short stories with a general theme of resistance to government oppression. Contributors come from around the world and include Gabriel Garcia Marquez, Ken Saro-Wiwa, Vladimir Nabokov, Isaac Babel, Wang Meng and Reza Baraheni. They shed light on issues such as censorship, political prisoners and fascism, often from their home-countries of Cuba, Russia, China, Italy, Haiti, the Republic of Congo, and others. Many of the authors were themselves victims of oppression or witnessed atrocities committed by the state. Their tales aim to change the societies from which they stem through the power of literature.
The collection includes 19 stories by various writers, many of whom have been banned in their native countries. Each story is accompanied by an introduction, including a brief description of the political events referenced and a note on the writer. Manguel includes an Introduction in which he tells his own story and expresses his goals for the book. He disagrees with W. H. Auden's claim that "poetry makes nothing happen" and attempts to create social change internationally through the collection of these revealing stories.
[Abstract by Mia Manns]
Subject Headings