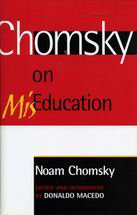 Chomsky on MisEducation

Chomsky, Noam; edited and introduced by Donald Macedo
Publisher: Rowman & Littlefield, Boston, USA
Year Published: 2000
Pages: 200pp Price: $29.95 ISBN: 0-7425-0129-9
Library of Congress Number: LB885.C522 A3 2000 Dewey: 370.1-dc21
Resource Type: Book
Cx Number: CX7351
Chomsky critiques the education system and discusses what education could be like in a democratic society.
Abstract:
Chomsky's book is an in-depth explanation of his views on the education system that expands upon the ideas that he is already frequently quoted for. His interest is in the nature of education in a democratic state. His analysis of the school system in the West claims that there is too much emphasis on indoctrination and obedience, while critical thinking is often discouraged in children. Other issues that he explores include academic freedom, censorship in schools, engineered history, and the effects of class structure and capitalism on education. He calls for a transformation of schooling that is centred on politics, justice and social change.
The book includes an introduction by editor Donald Macedo and is further divided into 5 chapters. Chapter 1 is a dialogue between Chomsky and Macedo about education as a method of domestication. Chapter 2 is called Democracy and Education. Chapter 3 is called The Craft of 'Historical Engineering'. Chapter 4 is on academic and human freedom, as well as 'Market Democracy in a Neoliberal Order'. Chapter 5 is a debate with John Silber. Each chapter is well sourced and provides many references for further reading.
Chomsky demonstrates his point through various debates using specific examples of world events and providing facts to back up his allegations. After analyzing the problems in the current education system, he provides suggestions for what should be done to fix them. On the issue of a biased account of history, Chomsky says "One of our challenges as educators is to discover what historically is possible in the sense of contributing toward the transformation of the world, giving rise to a world that is rounder, less angular, more humane."
[Abstract by Mia Manns]
Table of Contents
Introduction
1 Beyond a Domesticating Education : A Dialogue
2 Democracy and Education
3 The Craft of "Historical Engineering"
4 Market Democracy in a Neoliberal Order: Doctrines and Reality
5 Unmasking a Pedagogy of Lies: A Debate with John Silber
Index
About the Author and Editor
Subject Headings