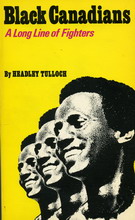 Black Canadians
A Long Line of Fighters
Tulloch, Headley
Publisher: NC Press Ltd., Toronto, Canada
Year Published: 1975
Pages: 186pp ISBN: 0-919600-15-8
Resource Type: Book
Cx Number: CX7325
Discusses the roles played by black Canadians in history.
Abstract: Discusses the roles played by black Canadians in history, especially in Canada's relations with the U.S. The book is divided into three parts and includes the history and culture of Africans, the development of slavery, slavery-related wars in Canada and the personal experiences of four black Canadians who have had to struggle and fight for themselves and their community.
There are chapters on the history of slavery, in general, as well as the history of slavery in Canada, in particular. The last couple of chapters contain advice on how to deal with racism and other related problems and how to move forward.
There are sections on Immigration policy, "Black Canadians and the Law," and "Canadian blacks and the American Revolution." The book is well illustrated with many photographs and maps and is a short and interesting overview of the history and problems of black people in Canada.
Headley Tulloch is a teacher, community worker and a past vice-president of the Jamaican Canadian Association and has appeared on television in support of self-determination for Africans.
[Abstract by Nabeeha Chaudhary]
Table of Contents
Black and Canadian
Part 1
1. What's in a Name
Part 2.
2. Regaining Our History
3. African Heritage: Our History
4. African Heritage: Our Culture
5. Slavery
6. The History of Slavery in Canada
7. War and Revolution
8. "Canada Where All the slaves are Free"
9. Four Canadians
Part 3
10. African Liberation
11. Overcoming Some Problems
12.Which Way Black Canada
Conclusion
Getting to Know Black Canadians
Bibliography
Subject Headings