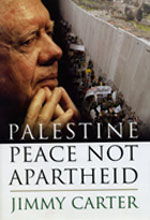 Palestine Peace Not Apartheid

Carter, Jimmy
Publisher: Simon & Schuster, New York, USA
Year Published: 2006
Pages: 265pp ISBN: 0-7432-8502-6
Library of Congress Number: DS119.7.C3583 2006 Dewey: 956.04--dc22
Resource Type: Book
Cx Number: CX7151
Former U.S. President Carter calls Israel's treatment of Palestinians 'apartheid' and identifies continuing Israeli control of the occupied territories as the primary obstacle to peace.
Abstract:
Palestine Peace not Apartheid is a proposal for the future peace in the Middle East. Former US President Jimmy Carter analyzes the crisis in the most volatile area of the world and uses historical evidence to back his evaluation. He has personal experience in dealing with many of the key politicians involved and a solid understanding of the complexities of the issue, and these are recounted in his book. His prescription for peace based on a long-term two-state agreement would stop the death of non-combatants and appease both sides of the conflict. He advocates a future without terror and without any system of Palestinian segregation.
The historical context of the situation is provided in depth. Several maps show the past and current political divisions of Israel as well as the proposals of various peace negotiators. The book begins with a brief time
line from Abraham's journey to Canaan to present day. After these resources, the book is divided into 17 chapters, beginning with Carter's proposal for peace, describing his first visit to Israel, and covering all
of the political developments up until the 2006 election. Finally, the Appendix goes into detail on all of the past UN resolutions and other peace plans.
The premises of Carter's plan involves the preservation of Israel's borders, ending the killing of non-combatants, and the protection of Palestinian life and freedom in their own land, until such a time that a
faith-based agreement can be made to unite the two states. Negotiators for this plan must know all of the intricate details of the history of this conflict in order to make it work. Although it is not difficult to express the challenges in somewhat simplistic terms, writes Carter, the issues are extremely complex and are derived from both ancient and modern-day political and religious history. Without an understanding of
this rich history, peace cannot be realized.
[Abstract by Mia Manns]
Table of Contents
Maps
Historical Chronology
1. Prospects for Peace
2. My First Visit to Israel, 1973
3. My Presidency, 1977-81
4. The Key Players
5. Other Neighbours
6. The Reagan Years, 1981-89
7. My Visits with Palestinians
8. The George H W Bush Years
9. The Oslo Agreement
10. The Palestinian Election, 1996
11. Bill Clinton's Peace Efforts
12. The George W Bush Years
13. The Geneva Initiative
14. The Palestinian Election, 2005
15. The Palestinian and Israeli Elections, 2006
16. The Wall as a Prison
17. Summary
Appendices
Appendix 1: U.N. Resolution 242, 1967
Appendix 2: U.N. Resolution 338, 1973
Appendix 3: Camp David Accords, 1978
Appendix 4: Framework for Egypt-Israel Peace Treaty, 1978
Appendix 5: U.N. Resolution 465, 1980
Appendix 6: Arab Peace Proposal, 2002
Appendix 7: Israel's Response to the Roadmap, May 25, 2003
Acknowledgements
Index
Subject Headings