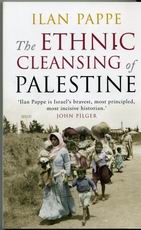 The Ethnic Cleansing of Palestine

Pappe, Ilan
Publisher: Oneworld
Year Published: 2007
Pages: 313pp Price: £15.99 ISBN: 978-1-85168-555-4
Resource Type: Book
Cx Number: CX7103
Israelo historian Ilan Pappe recounts the ethnic cleansing of Palestinians from Israel during the war of 1948.
Abstract:
Ilan Pappe, who has written a number of influential books on the Middle East, holds the Chair in History at the University of Exeter. In The Ethnic Cleansing of Palestine he offers archival evidence to demonstrate that a major factor of Israel's founding ideology, from the very beginning, has been the forcible removal of the indigenous population.
The book is divided into twelve chapters with titles including "The Drive for an Exclusive Jewish State," "Occupation and its Ugly Faces" and "The Phony War and the Real War over Palestine." Pappe argues that, though the modern "communication-driven world" does not allow for large-scale crimes against humanity to be concealed, the crime committed by Israel in 1948 - the dispossession of the Palestinians -- has been denied and almost completely erased from the global public memory.
He gives a detailed description of events in Palestine from 1948 onwards, stressing that the main goal of the Zionist movement was ethnic cleansing, a fact which has been "thoroughly denied", and that Palestinian suffering has been totally ignored ever since 1948. The book contains a chronology of key dates, some illustrations and a number of maps and tables to support its argument.
[Abstract by Nabeeha Chaudhary]
Table of Contents
List of Illustrations, Maps and Tables
Acknowledgements
Preface
1. An 'Alleged' Ethnic Cleansing
Definition of Ethnic Cleansing
Ethnic Cleansing as a Crime
Reconstructing an Ethnic Cleansing
2 The Drive for an Exclusively Jewish State
Zionism's Ideological Motivation
Military Preparations
The Village Files
Facing the British: 1945-1947
David Be-Gurion: The Architect
3. Partition and Destruction: UN Resolution 181 and its Impact
Palestine's Population
The UN's Partition Plan
the Arab and Palestinian Positions
The Jewish Reaction
The Consultancy Begins its Work
4. Finalising A Master Plan
The Methodology of Cleansing
The Changing Mood in the Consultancy: From Retaliation to Intimidation
December 1947: Early Actions
January 1948: Farewell to Retaliation
The Long Seminar: 31 December - 2 January
February 1948: Shock and Awe
March: Putting the Finishing Touches to the Blueprint
5. The Blueprint for Ethnic Cleansing: Plan Dalet
Operation Nachshon: The First Plan Dalet Operation
The Urbicide of Palestine
The Cleansing Continues
Succumbing to a Superior Power
Arab Reactions
Towards the 'Real War'
6. The Phony War and the Real War over Palestine: May 1948
Days of Tihur
The Massacre of Tantura
The Brigades' Trail of Blood
Campaigns of Revenge
7. The Escalation of the Cleansing Operations: June - September 1948
The First Truce
Operation Palm Tree
In Between Truces
The Trace that Wasn't
8. Completing the Job: October 1948 - January 1949
Operation Hiram
Israel's Anti-Repatriation Policy
A Mini Empire in the Making
Final Cleansing of the South and East
The Massacre in Dawaymeh
9. Occupation and its Ugly Faces
Inhuman Imprisonment
Abuses Under Occupation
Dividing the Spoils
Desecration of Holy Sites
Entrenching the Occupation
10. The Memoricide of the Nakba
The Reinvention of Palestine
Virtual Colonialism and the JNF
The JNF Resort Parks in Israel
11. Nakba Denial and the 'Peace Process'
First Attempts at Peace
The Exclusion of 1948 from the Peace Process
The Right of Return
12. Fortress Israel
The 'Demographic Problem'
Epilogue
Endnotes
Chronology
Maps and Tables
Bibliography
Index
Subject Headings