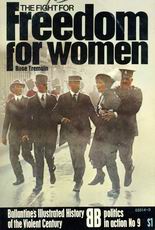 The Fight for Freedom for Women

Tremain, Rose
Publisher: Ballantine, United Kingdom
Year Published: 1973
Pages: 160pp Resource Type: Book
Cx Number: CX6731
The fight for women's rights in the late nineteenth and early twentieth centuries, primarily focusing on Britain and the USA.
Abstract:
-
Table of Contents
Preface
Introduction
'The barbarisms to which men cling'
Declaration of sentiments
Justice or expediency?
A new fellowship
Old alliances
The Pankhursts - a new strategy
Hunger strike
'We have waited so long, Mr. President'
Punishment and patriotism
Towards liberation?
Bibliography
Subject Headings