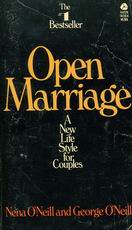 Open Marriage
A New Life Style for Couples
O'Neill, Nena & George
Publisher: Avon
Year Published: 1972
Pages: 286pp ISBN: 0-380-00271-X
Resource Type: Book
Cx Number: CX6724
The authors propose open marriage as a way to help couples realize that there can be both relatedness and freedom in marriage, and that freedom, with the growth and responsibility it entails, can be the basis for intimacy and love.
Abstract:
-
Table of Contents
Preface and Acknowledgements
Why Save Marriage at All?
Who Has the Open Marriage?
Rewriting the Contract
Open vs. Closed Marriage - the Guidelines
Living for Now and Realistic Expectations
Privacy
Open and Honest Communication (I): Verbal and Non-verbal
Communication (II): Self-disclosure and Feedback
Communication (III): Productive Fighting and Fantasy Sharing
Role Flexibility (I): Masculine and Feminine - Which Is What?
Role Flexibility (II): Role Reversal and Role Exchange
Open Companionship
Equality
Identity
Trust
Love and Sex without Jealousy
Synergy: Couple Power through Person Power
Notes
Bibliography
Subject Headings