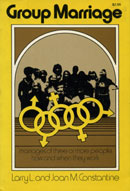 Group Marriage
A Study of Contemporary Multilateral Marriage
Constantine, Larry L. and Joan
Publisher: Collier Books, New York, USA
Year Published: 1973
Pages: 299pp Resource Type: Book
Cx Number: CX6706
A study of more than 100 group marriages in the United States, exploring the psychology and sociology of this form of marital relationship. The study looks at how group marriages are established, who enters into such relationships, how they communicate, how children and adults relate, how conflicts are resolved.
Abstract:
-
Table of Contents
Preface
Acknowledgements
Part I: Context
The Myths of Monogamy
The Family of Human Families
New Ways, New Whys
Part II: Study
A Study That Wasn't
Methodology and Friends
Who and What
Cowives and Cohusbands
Part III: Outcome
Beginnings
Health and Happiness
Reasons and Unreasons
Growing
Money Matters - Or Does It?
Control, Conflict, and Consensus
Children in the Group
Sex in the Group
Seeing Green
The Group Marriage in Society
Mixing and Matching
Endings
Part IV: Beyond
Excursus on Human Loving
Footnote on the Nature of Human Sexuality
Toward Tomorrow's Families
Epilogue
Appendices
Notes on Statistical Procedures
Further Notes on Methodological Issues
Basic Characteristics of Respondents and Survey Informants
Family Summary and Individual Summary
Family Background and Orientation
Selected Attitudes
Marital Adjustment and Satisfaction
Personality
Substudy on children
Bibliography
Subject Headings