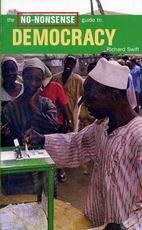 The No-Nonsense Guide to Democracy

Swift, Richard
Publisher: Between the Lines, Toronto, Canada
Year Published: 2002
Pages: 144pp Price: $15 ISBN: 1-896357-55-5
Resource Type: Book
Cx Number: CX6696
Ths book explores how democracy is constricted and deformed by economic power-brokers and a self-serving political class.
Abstract:
Richard Swift is a co-editor with the New Internationalist magazine and has worked in radio journalism and alternative publishing for many years. He has a long-term interest in questions of ecology and democracy and, in The No-Nonsense Guide to Democracy he argues that the free market is an anti-democratic force. Actual democracy, one that exists on all levels of society and is not just a facade put forward by politicians, is under attack from all quarters, especially with the post 9/11 obsession with security.
The book gives readers a definition and explanation of what democracy is, how it has developed over time, the threats it faces and the forms in which it manifests itself -- economic, ecological and political. There are sections on "crooked politicians," "origins of weak democracy," the "anti-globalization movement," and "frustrated voters" amongst others. A democracy timeline also appears in the form of a separate table, depicting major events throughout ancient and modern history that helped shape the development and spread of democracy. It begins from Hammurabi's legal code and goes on from the Ten Commandments to the time when the use of the Internet became widespread. Contact information is given for further resources, both local and international.
[Abstract by Nabeeha Chaudhary]
Table of Contents:
Foreword by Douglass Lummis
Introduction
1 What is democracy?
2 Democratic malaise
3 Weak and strong democracy
4 Democratizing the economy
5 Beyond the nation-state
6 Democratizing democracy
7 Democracy and ecology
8 Strong democracy in the South
9 Conclusion
Contacts
Bibliography
Index
Subject Headings