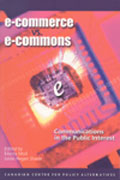 E-Commerce vs. E-Commons
Communications in the public interest
Moll, Marita; Shad, Leslie Regan (eds.)
Publisher: Canadian Centre for Policy Alternatives, Ottawa, Canada
Year Published: 2001
Pages: 228pp ISBN: 0-88627-242-4
Library of Congress Number: HM1017.E23 2001 Dewey: 302-23
Resource Type: Book
Cx Number: CX6685
From privacy issues to intellectual property, from universal access to union activism, these essays challenge the rush to deregulate and disconnect communications from the public interest.
Abstract:
-
Contents
About the Contributors
Preface
Introduction
Myth-ing Links: Power and Community on the Information Highway
Vincent Mosco
DESIGNING POLICY: WHITHER THE PUBLIC INTEREST?
Debating Universal Access in the Canadian Context:
The Role of Public Interest Organizations
Andrew Clement, Marita Moll and Leslie Regan Shade
Privacy Then and Now: Taking Stock Since IHAC
Valerie Steeves
The Media Cluster: Communalizing Intellectual Property
While Socially Appropriating the Media Conglomerate
Jesse Hirsh
Information Highway Policy, E-Commerce and Work
Gregory J. Walters
LEARNING A LIVING
Gated Communities or Public Spaces?
The Future of the Public Library
Sandra Smeltzer
Pianos vs. Politics: Sustaining Public Education
In The Age Of Globalization
Marita Moll
Technology Organizing and Unions
Marc Belanger
THE COMMUNITY IS THE NETWORK
Every Tool Shapes the Task: Communities
and the Information Highway
Ursula Franklin
Community Networking in Canada: Do You Believe in Magic?
Marita Moll and Leslie Regan Shade
POVNET: An Online Commons for Anti-Poverty Activists
Penny Goldsmith
Networking Community, Not Technology: Informing
Development Choice in New Ways
Grath Graham
POSTSCRIPT
On Digital Public Space and the Real Tragedy of the Commons
Heather Menzies
Subject Headings