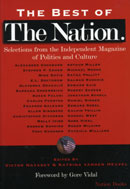 The Best of The Nation
Selections from the Independent Magazine of Politics and Culture
Navasky, Victor; Heavel, Katrina Vanden
Publisher: Nation Books, New York, USA
Year Published: 2000
Pages: 608pp Price: $29.50 ISBN: 1-56025-267-7
Library of Congress Number: E881.B47 2000 Dewey: 973.928 -- dc21
Resource Type: Book
Cx Number: CX6681
An anthology of articles from The Nation.
Abstract:
Contributions of various well known writers have been included in this collection of articles and essays from the last decade. Arthur Miller, Edward Said, Mike Davis, Cornel West and Michael Moore are just a few names out of the many. There are more than eighty articles/essays in the book, categorized by year, including "Taking the Democracy Way," "Embargoed Literature," "A Guide to the Ghettos," and "Racism has its Privileges." There is a foreword by Gore Vidal and brief individual descriptions of all the contributors at the back.
Victor Navasky is the publisher of The Nation magazine and the author of Naming Names, winner of a National Book Award. Katrina vanden Heuvelis is the editor of The Nation magazine and of an anthology, The Nation 1865-1990. She is also the co-author of Voices of Glasnost.
[Abstract by Nabeeha Chaudhary]
Table of Contents
FOREWORD BY GORE VIDAL
EDITORS NOTE
1990
Douglas McGrath
PREZ V. UPTIGHT RE: BOLDNESS GAP 1/1/90
Cornel West,
MICHAEL HARRINGTON, SOCIALIST 1/8-15/90
Carlos Fuentes,
TIME FOR OUR SINATRA DOCTRINE 2/12/90
Alexander Cockburn
OUT OF THE MOUTH OF BABES: CHILD ABUSE AND THE ABUSE OF ADULTS 2/12/90
Benjamin H. Cheever,
BAD DAY IN PLEASANTVILLE 5/7/90
E.P.Thompson,
BREAK UP THE BLOCS IN EUROPE 8/13-20/90
Gore Vidal,
NOTES ON OUR PATRIARCHAL STATE 8/27/90-9/3/90
Micah L.Sifry,
LET 'EM VOTE FOR "NONE OF THE ABOVE" 9/10/90
Edward W.Said,
EMBARGOED LITERATURE 9/17/90
Stuart Klawans,
WILD AT HEART 9/17/90
Arthur C. Danto,
HIGH AND LOW AT MOMA 11/26/90
Amy Wilentz,
THE PRIEST AND HIS PEOPLE 12/24/90
1991
Adolph Reed, Jr.
THE RISE OF LOUIS FARRAKHAN PART ONE ALL FOR ONE AND NONE FOR ALL: THE RISE OF LOUIS FARRAKHAN PART TWO: 1/21-28/91
Richard Howard,
BEATING ABOUT EXECUTIVE PRIVILEGE 2/25/91
Deborah W. Meier,
CHOICE CAN SAVE PUBLIC EDUCATION 3/4/91
Mary Kaldor,
TAKING THE DEMOCRATIC WAY 4/22/91
Yevgeny Yevtushenko,
THE LOSS 7/15-22/91
Katrina vanden Heuvel,
THREE DAYS THAT SHOOK THE KREMLIN 9/9/91
Katha Pollitt,
CANON TO THE RIGHT OF ME…9/23/91
Ted Solotaroff,
THE PAPERBACKING OF PUBLISHING 10/7/91
Eric Hobsbawm,
THE PERILS OF THE NEW NATIONALISM 11/4/91
1992
Christopher Hitchens,
CLINTON AND RICKEY RAY RECTOR 3/2/92
James Merrill,
PEARL 3/30/92
Tom Engelhardt,
THE GULF WAR AS TOTAL TELEVISION 5/11/92
Clancy Sigal,
THE KARMA RAN OVER MY DOGMA 5/18/92
William Seagraves, Andrew Kopkind,
BAD BEARS NEWS - EXCHANGE 5/25/92
Mike Davis,
IN LA, BURRING ALL ILLUSIONS 6/1/92
Mona Van Duyn,
EMERGENCY ROOM (TURNPIKE, ANYWHERE, U.S.A.) 6/15/92
Philip Green,
A FEW KIND WORDS FOR LIBERALISM 9/28/92
Molly Ivins,
NOTES FROM ANOTHER COUNTRY 9/14/92
E.L.Doctorow,
THE CHARACTER OF PRESIDENTS 11/9/92
1993
Charles Simic,
NOVEMBER FIRST 2/22/93
Slavenka Drakulic,
WOMEN HIDE BEHIND A WALL OF SILENCE 3/1/93
Jan Clausen, Barrie Karp, Ynestra King, Jane Lazaree, Grace Paley, Suzanne Gordon, Katha Pollitt,
SISTERS UNDER THE SKIN-EXCHANGE 3/8/93
Camilo Jose Vergara,
A GUIDE TO THE GHETTOS 3/15/93
Robert Scheer,
TROUBLE STILL IN FORREST CITY 3/22/93
Andrew Kopkind,
THE GAY MOMENT 5/3/93
Elisabeth Sifton,
THE TRUTH ABOUT THE A.B.A. 6/7/93
Michael Tomasky,
THE IDENTITY POLITICS IN NEW YORK CITY 6/21/93
Frank Bardacke,
CESAR'S GHOST 7/26-8/2/93
Salman Rushdie, Alexander Cockburn,
GIVING THE DEVIL HIS DUE - EXCHANGE 8/23-30/93
Laura Flanders, Cass R. Sustein, Lindsay Waters, Claire Silvers, Maria Eugenia Quintana, Paul Adams, Christopher Palmer, Stephanie Gouse, Aida Donald, Carlin Romano,
WORDS ARE ALL I HAVE - EXCHANGE 12/27/93
1994
Ring Lardner, Jr.,
THE AGE OF REASON, 1794-1994 2/21/94
Paco Ignacio Taibo II,
ZAPATIST A! THE PHOENIX RISES 3/28/94
John Pilger,
LAND OF THE DEAD 4/25/94
John Leonard,
CONFESSIONS OF A TOBACCO FIEND 4/25/94
Daniel Singer,
A DESERTER FROM DEATH 6/20/94
Tony Kushner,
A SOCIALISM OF THE SKIN 7/4/94
W.S. Merwin,
BATTUES 7/4/94
Allan Nairn,
BEHIND HAITI'S PARAMILITARIES 10/24/94
1995
Philip Levine,
1953 1/2/95
Carol Brightman,
CHARACTER IN BIOGRAPHY 2/13/95
Roger Wilkins,
RACISM HAS ITS PRIVILEGES 3/27/95
Bruce Shapiro,
ONE VIOLENT CRIME 4/3/95
Arthur C. Danto, Clayton Eshleman, Alexander Cockburn,
ALLEGORY OF THE CAVE EXCHANGE 4/24/95
Robert Sherrill,
BUYING HIS WAY TO A MEDIA EMPIRE 5/29/95
Eric Foner,
HIRING QUOTAS FOR WHITE MALES ONLY 6/26/95
Arthur Miller,
TO NEWT ON ART 7/31-8/7/95
Kirkpatrick Sale,
IS THERE METHOD IN HIS MADNESS? 9/25/95
Patricia J. Williams,
DIFFERENT DRUMMER PLEASE, MARCHERS! 10/30/95
Allen Ginsberg,
THE BALLAD OF THE SKELETONS 11/27/95
1996
Jon Wiener,
INSIDE THE BUTTS BOX: THE CIGARETTE PAPERS 1/1/96
Tom Frank,
HIP IS DEAD 4/1/96
Susan Faludi
DOES MAUREEN DOWD HAVE AN OPINION? 5/13/96
Salman Rushdie,
HOW NEWS BECOMES OPINION, AND OPINION OFF-LIMITS 6/24/96
Richard Parker,
CENTRISM, POPULIST STYLE 10/7/96
Stephen F. Cohen,
'TRANSITION OR TRAGEDY? 12/30/96
Agha Shahid Ali,
HANS CHRISTIAN OSTRO 12/30/96
1997
Edmund White ,
JOURNALS OF THE PLAGUE YEARS 5/12/97
Eric Alterman,
HEART OF WHITENESS 10/6/97
Barbara Ehrenreich,
WHEN GOVERNMENT GETS MEAN: CONFESSIONS OF A RECOVERING STATIST 11/17/97
Michael Moore,
IS THE LIST NUTS? (OR IS IT ME?) 11/17/97
Richard Rorty,
FIRST PROJECTS, THEN PRINCIPLES 12/22/97
1998
Kelly Candaele, Terence M. Ripmaster, Ellen Frank, Kenny Bruno Anner, Steve and Pat Gallagher (and family), Robert T. Bowen, Lester Rodney, Mike Matejka, Peter W. Denzer, Michael Moore,
MICHAEL MOORE'S MAILBAG - EXCHANGE 1/5/98
David Corn,
"66 THINGS TO THINK ABOUT WHEN FLYING INTO REAGAN NATIONAL AIRPORT" 3/2/98
Marc Cooper,
GENERAL PINOCHET STILL RULES: 25 YEARS AFTER ALLENDE 3/23/98
Wislawa Szyborska,
SOME PEOPLE 3/23/98
Ellen Willis,
WE NEED A RADICAL LEFT 6/29/ 98
Yusef Komunyakaa,
THE DEVIL'S BALL 7/8/98
Victor Navasky,
DIALECTICAL MCCARTHYISM (S) 7/20/98
Marshall Berman,
UNCHAINED MELODY 5/11/98
Gerald Early,
PERFORMANCE AND REALITY: RACE, SPORTS AND THE MODERN WORLD 8/10-17/98
Eduardo Galeano,
ALL THE WORLD'S A BALL 8/10-17/98
Martin Duberman,
WRITING ROBESON 12/28/98
1999
Calvin Trillin,
HISTORIC QUESTION DEPARTMENT, 11TH GRADE DIVISION 1/11/99
David Rieff,
THE FALSE DAWN OF CIVIL SOCIETY 2/22/99
Jonathan Schell,
SEXTUPLE JEOPARDY 2/22/99
Benjamin Schwarz and Christopher Layne,
NATO: AT 50, IT'S TIME TO QUIT 5/10/99
William Greider,
UNFINISHED BUSINESS, CLINTONS' LOST PRESIDENCY 2/14/2000
CONTRIBUTORS
ILLUSTRATIONS
Subject Headings