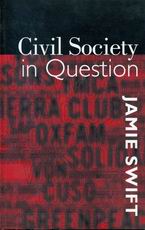 Civil Society in Question

Swift, Jamie
Publisher: Between the Lines, Toronto, Canada
Year Published: 1999
Pages: 170pp ISBN: 1-896357-24-5
Library of Congress Number: JC336.S94 1999 Dewey: 301
Resource Type: Book
Cx Number: CX6680
Civil Society ranks as flavour of the month among community volunteers, academics and policy makers. Many view it as a key concept in the struggle against poverty and for social justice and democracy. Is civil society anything more than a projection of our desires, a chameleon concept that can mean all things to all people? Does it risk being co-opted beyond recognition and usefulness?
Abstract:
-
Table of Contents
Foreword - Richard Harmston
Acknowledgements
1. Introduction: Unpacking the Conceptual Ragbag
2. The Politics of Helping People: Canada and Sri Lanka
3. From Enlightenment to Globalization: A Historical Passage
4. "As Long as People are People": Voluntarism, Government, and Politics
5. Dams, Jeeps, and People-Centred Development: The South Asian Experience
6. Conclusion: Towards the "Double Movement"
Notes
Index
Subject Headings