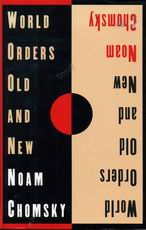 World Orders Old and New

Chomsky, Noam
Publisher: Columbia University Press, USA
Year Published: 1994
Pages: 311pp ISBN: 0-231-10156-2
Library of Congress Number: D860-C47 1994 Dewey: 327.1'01--dc20
Resource Type: Book
Cx Number: CX6659
Chomsky surveys the international scene since 1945.
Abstract:
-
Table of Contents
Preface
Marching in Place
1. The Cold War and Population Control
2. New World Orders
3. A Test Case: Iraq and the West
4. The Cold war Reconsidered
5. North-South/East-West
The Political-Economic Order
1. Securing the Home Front
2. Some Lessons of History
3. "The Government of the World"
4. The Balance Sheet
5. Looking Ahead
6. The Contours of the New World Order
History's "Greatest Prize"
1. Updating the Monroe Doctrine
2. Containing the Internal Enemy
3. The Structure of Power
4. The Regional Actors
5. Seeking Peace: Stage One
6. Seeking Peace: The Recent Phase
7. Conquering History
8. The Berlin Wall Falls Again
9. After the Agreement
Notes to Chapter 1
Notes to Chapter 2
Notes to Chapter 3
Index
Maps
Subject Headings