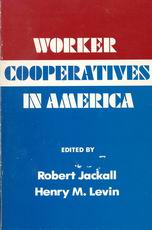 Worker Cooperatives in America

Jackall, Robert; Levin, Henry M. (ed.)
Publisher: University of California Press, USA
Year Published: 1984
Pages: 312pp ISBN: 0-520-05741-4
Library of Congress Number: HD3134.W67 Dewey: 334'.6'0973
Resource Type: Book
Cx Number: CX6646
A historical background of worker cooperatives as well as a contemporary discussion of small and large co-ops.
Abstract:
Worker Cooperatives in America is a collection of articles written by various authors discussing labour organizations in the United States. Broken down into seven sections, the collection provides a historical background of worker cooperatives as well as a contemporary discussion of small and large co-ops operating in the mid 1980s.
Worker cooperatives are "productive firms that are democratically owned and managed by their workers. In an age of unparalleled bureaucratization where employees rarely participate in the ownership or control of organizations that shape their working lives, worker cooperatives are a vital form of workplace democracy."
Economic uncertainties of the 1970s and the growing competition from European and Asian markets left the American economy in serious trouble. Many corporations turned away from American workers looking towards the Third World to produce and manufacture goods through non-unionized, cheaper labour.
Worker Cooperative in America discusses the beneficial aspects of funding co-op programs that have the potential to help eliminate and resolve some of Americas' economic problems. "The conventional capitalist workplace of today makes the worker only an extension of its system of production, subordinate both to the organization of work and to the technology used in production." Workers survive and succeed in such a system by tailoring their skills, and indeed themselves, to the external requirements of the system." By contrast, worker cooperatives place workers at the center of the decision making process incorporating their ideas and talents.
Looking at the challenges, dilemmas and obstacles hindering the growth of worker cooperatives as well as providing a section discussing ways to overcome these obstacles, the collection demonstrates how co-ops have the power to build stronger workplaces, improving the lives of the workers and the value of the companies they work with. The authors provide perspectives on how to run successful co-ops and address the issues hindering cooperative growth. The book aims to present a study in which individuals can learn how to overcome the internal and external barriers preventing cooperative success.
[Abstract by William Stevenson]
Subject Headings