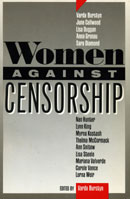 Women Against Censorship

Burstyn, Varda
Publisher: Douglas & McIntyre, Vancouver, Canada
Year Published: 1985
Pages: 210pp ISBN: 0-88894-455-1
Library of Congress Number: HQ471.W65 1985 Dewey: 363.4'7
Resource Type: Book
Cx Number: CX6642
Essays which argue that women have nothing to gain by allying themselves with anti-feminist forces and mainstream politicians. The contributors say that censorhip will be used against feminists who seek deep and permanent changes in the status quo.
Abstract:
-
Table of Contents
Acknowledgements
Varda Burstyn / Introduction
Varda Burstyn / Political Precedents and Moral
Crusades: Women, Sex and the State
Myrna Kostash / Second Thoughts
Sara Diamond / Pornography: Image and Reality
Lisa Steele / A Capital Idea: Gendering in the Mass Media
Lynn King / Censorship and Law Reform: Will Changing the Laws Mean a Change for the Better?
Anna Gronau / Women and Images: Toward a Feminist Analysis of Censorship
Mariana Valverde and Lorna Weir / Thrills, Chills and the "Lesbian Threat" or, The Media, the State
and Women's Sexuality
Ann Snitow / Retrenchment versus Transformation:
The Politics of the Anti-Pornography Movement
June Callwood / Feminist Debates and Civil Liberties
Lisa Duggan, Nan Hunter and Carole S. Vance / False Promises: Feminist Anitipornography Legislation in
the U.S.
Varda Burstyn / Beyond Despair: Positive Strategies
Thelma McCormack / Appendix 1: Making Sense of the Research on Pornography
Editor's Note
Author's Introduction
Text
Appendix 2: Excerpts from the Minneapolis Ordinance
Subject Headings