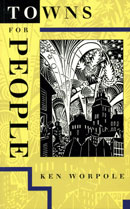 Towns for People

Worpole, Ken
Publisher: Open University Press
Year Published: 1992
Pages: 113pp ISBN: 0-335-09964-5
Library of Congress Number: HT170.W675 1992 Dewey: 307.76--dc20
Resource Type: Book
Cx Number: CX6610
Examines the pressures, lifestyle changes, and social factors that contributed to the decline in urban public life in the late 20th century.
Abstract:
Based largely on the results of a Summary Report concerning the way twelve British towns and cities were perceived, Ken Worpole's Towns for People examines the pressures, lifestyle changes, and social factors that contributed to the decline in urban public life in the late 20th century. Town centres were once the most characteristic, distinguishing features of any city. In Britain in the early 1990s however, they served as nothing more than shopping districts by day and were all but abandoned by night. According to Worpole, this decline in the use of town centres was the result of poor urban planning and illustrates the impact that urban policy can have on British citizens' lives.
Towns were evaluated in exclusively quantitative terms such as income and land usage. This has contributed to a focus on economics instead of culture on the part of urban planners. Thus, more emphasis is placed on improving a town's efficiency (e.g. by creating more efficient transit systems) than on improving a town's actual destinations (e.g. theatres).
Additionally, local governments prioritize the promotion of events and facilities they provide while ignoring events hosted by independent groups. This often results in many groups of city dwellers, young people in particular, feeling as if their cultural interests have been "at best ignored, at worst derided." Government-run institutions that do see widespread use, such as libraries and museums, paradoxically tend to be those that receive the least government funding and attention.
The existing discrepancies between what citizens want and what towns currently provide have produced towns to which people can no longer relate. Worpole concludes by stating that improving urban "cultural policy" could help towns better reflect social concerns. This would involve fostering a new "culture of hope" by emphasizing that "attitudes are as important as buildings; individual and social relationships as important as material goods."
[Abstract by Oliver Mao]
Table of Contents:
Introduction
1. What went wrong?
Starting points: arrivals and departures
Traffic in towns
The retail revolution
The privatization of leisure
2. Time and space in the modern town
Historical determinants
Privileging of time over space
Time
Space
Transitional spaces
The street
Walking and Promenading
Ribbons and lines rather than circles and squares
3. Safety in numbers: towards women-friendly cities
Law and order paradigm
Town-centre crime
Women in Woolwich
Women and transport
Lighting
Children
Women in cities: the double bind
4. Licensed space
Drinking and disorder
Which young people?
Drinking time
All-day opening
Pub architecture
Changing names
The pub repertoire
Public transport and locational issues
Police attitudes
The economics and demographics of drinking in Britain
5. The invisible web
The revolutionary and self-organized tradition
Participation: the national picture
Participation: a Southend case study
Amateur and professional arts
Libraries, theatres, galleries and museums
Adult education
Festivals
The politics of identity
6. The form of civic renewal
The changing role of local authorities
Economic development and tourism
The planning debate
Contract culture: the growth of 'post-democratic' agencies
Civic culture and citizenship
Bibliography
Index
Subject Headings