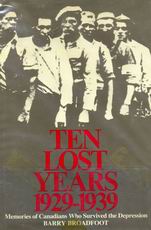 Ten Lost Years 1929 - 1939
Memories of Canadians Who Survived the Depression
Broadfoot, Barry
Publisher: Doubleday Canada, Toronto, Canada
Year Published: 1973
Pages: 389pp ISBN: 0385-04409-7
Dewey: 971.0623
Resource Type: Book
Cx Number: CX6601
An oral history of the Great Depression in Canada.
Abstract:
-
Table of Contents
Preface
Summary of Events
1. What Was It Like?
2. Three Overall Views
3. You'd Try Your Hand at Anything
4. On the Farm - Those in the Bible Never Had it Worse
5. Moving with the Whistle … Off the Farm
6. Four Walls and a Roof
7. On Relief
8. Starvation? Depends On What You Had Before
9. Government Relief Camps - They Treated Us Like Dirt
10. The Bush Was Still There
11. Employers Could Pick and Choose
12. Hoboes - Coming From Nowhere, Going Nowhere
13. Pride - A Commodity in Generous Supply
14. Prejudice - It Takes a Long Time for Old Habits to Die
15. Dishonesty? Just a Word for Survival
16. You Go a Little Crazy
17. Bartering Pork Chops for Babies
18. You Made a Dollar Any Way You Could
19. You'd Grab Any Job, Then Hang On
20. Things Were Just Fine, If You Had Any Money
21. Home-Made Entertainment
22. The Fantasy World
23. Kids
24. "You'll Be a Better Woman for it"
25. The Big World Outside
26. They Didn't Consider Indians People
27. It Gave Politicians More to Louse Up
28. So Many Problems and So Many Bureaucrats
29. Bankers and Business Walked Hand in Hand
30. Rough Justice
31. The Rosy Pictures of the Timid Press
32. Law and Order
33. Was a Revolution Possible?
34. 1939 - Lining Up to Die
35. Lasting Effects
Conclusion
Subject Headings