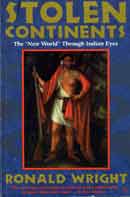 Stolen Continents
The "New World" Through Indian Eyes
Wright, Ronald
Publisher: Penguin
Year Published: 1992
Pages: 242pp Price: $13.99 ISBN: 0-14-013932-X
Resource Type: Book
Cx Number: CX6585
A history of the Americas through Native eyes.
Abstract:
Ronald Wright sets out to write a history of the Americas through Native eyes. Stolen Continents focuses on five Native peoples of the Americas - the Aztec of Mexico, the Maya and the Inca of South America, the Cherokee of the southern United States and the Iroquois of the northern US and southern Canada. Wright focuses on these five because they were among the most complex societies of the Americas and left correspondingly detailed records. Whenever possible, he incorporates Native eyewitness accounts of a history usually given over to the viewpoint of the conquerors (Europeans).
Wright begins by asking why South and North America were so devastated by European contact that it was never really 'de-colonized', i.e., the government and majority of the peoples of the Americas remain of European origin, not native, as opposed to the situation in Asia and Africa for instance. Wright disputes the usual reasons Europeans give for the devastation of the Indian people, such as that these were more 'primitive' societies, that they were few in numbers and that they were weak and superstitious. The true answer, Wright maintains, was that the native Americans were wiped out by the diseases brought by the Europeans against which they had developed absolutely no resistance. Wright calls these deaths the 'greatest mortality in history'. With decimated populations, including loss of their leaders, the natives could not put up a proper resistance to the European invasion.
Stolen Continents is divided into three parts: Part I, Invasion, Part 2, Resistance, and Part 3, Rebirth. Invasion details the initial European contact and assault on each of the native groups in turn. Resistance describes the ways in which the conquered societies managed to keep some of their culture alive by accommodating the invading culture and using it for their own purposes. Rebirth describes each culture's current efforts at self-determination. This section ends with a detailed examination of the Oka crisis in Canada in 1990.
This book is scholarly, well-researched, very readable and filled with stories and quotations from native and European eyewitnesses. It includes an extensive bibliography and a detailed index.
[abstract by Eileen Neumann]
Table of Contents
Author's Note
Maps
Part One: Invasion
Prologue: Discovery
Aztec
Maya
Inca
Cherokee
Iroquois
Part Two: Resistance
Aztec
Maya
Inca
Cherokee
Iroquois
Part Three: Rebirth
Aztec
Maya
Inca
Cherokee
Iroquois
Epilogue: Rediscovery
Notes
Bibliography
Acknowledgments
Index
Subject Headings