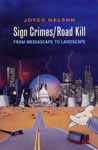 Sign Crimes/Road Kill
From Mediascape to Landscape
Nelson, Joyce
Publisher: Between the Lines, Toronto, Canada
Year Published: 1992
Pages: 244pp ISBN: 0-921284-54-3
Library of Congress Number: P90.N45 1992 Dewey: 302.23
Resource Type: Book
Cx Number: CX6559
A collection of thirty short essays by Joyce Nelson, a writer specializing in the politics of the mass media.
Abstract:
Sign Crimes/Road Kill is a collection of thirty short essays by Joyce Nelson an ecofeminist and writer, specializing in the politics of the mass media age since 1976. The book is divided into three sections, "Mediascape", "Mindscape" and "Landscape," and contains a variety of essays with titles ranging from "Mickey Goes to China" to "A Lament for Supergirl" and "The Temple of Fashion." Most of them correspond to similar themes including the negative effects of technology and consumerism on the environment and the reshaping of mindsets through media and subtle symbolism which is often a case of "sign crime."
In "Mickey goes to China" the author uses an Associated Press photograph and caption to show how subconscious symbolism works and in "Adventures in Wonderland" she discusses in detail how US and Canadian theme parks came into being, what the ideology behind them suggests and the negative effects of their artificiality on natural resources. Then, in "Culture and Agriculture: The Ultimate Simulacrum," she talks about how both words (culture and agriculture) come from the same root and how both are being polluted by technology. She compares Disneyland and its robotic, artificial, "desirable" life to the "perfect" varieties of crops and foods available. She says that people are fascinated by the "lifelike" but not "alive" creatures in Disneyland and, in the same way, consumers are demanding foods which look perfect and unreal but are "more embalmed than alive."
In the author's own words, this book is an "uneven" collection covering different topics but with many recurrent themes.
Subject Headings