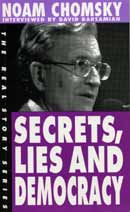 Secrets, Lies and Democracy
Chomsky, Noam
Publisher: Odonian Press, Tucson AZ 85751, USA
Year Published: 1994
Pages: 128pp Price: $8.50 ISBN: 1-878825-04-6
Resource Type: Book
Cx Number: CX6553
Noam Chomsky interviewed by David Barsamian.
Abstract: Secrets, Lies and Democracy was been compiled from interviews with Noam Chomsky conducted by David Barsamian in 1993 and 1994. The interviews were broadcast as part of Barsamian's Alternative Radio series and the book contains not only the questions asked by Barsamian but also those asked by radio listeners who called in during the interviews. Noam Chomsky, a professor at the Massachusetts Institute of Technology and a major figure in twentieth-century linguistics, has written a number of books on contemporary issues and has received countless honours and awards. This particular text covers a wide range of topics under the umbrella of democracy, including health care, gun control, sports, the media, the CIA, religious fundamentalism, free trade and nuclear power. The first section of the book deals with issues within America while the second section covers other parts of the world and the role played there by the United States. The third and fourth sections are titled "Historical Background" and "Miscellaneous Topics" respectively. At the end of the book there is a list of 144 organizations that "work to make the world a better place," classified under headings such as "Affordable Housing," "Civil Rights," and "Third World Development."
[Abstract by Nabeeha Chaudhary]
Table of Contents
Editor's note
The US
Defective democracy
Keeping the rich on welfare
Health care
Crime and punishment
Gun control
Becoming a Third World Country
Labor
The CIA
The Media
Sports
Religious fundamentalism
Don't tread on me
The World
Toward greater inequality
"Free Trade"
Mexico (and South Central LA)
Haiti
Nicaragua
China
Russia
Dead Children and debt service
Historical Background
How the Nazis won the war
Chile
Cambodia
World War 11 POWs
Miscellaneous topics
Consumption vs. well-being
Co-operative enterprises
The coming eco-catastrophe
Nuclear power
The Family
What you can do
Other books by Noam Chomsky
Index
Other books in the Real Story series
Subject Headings