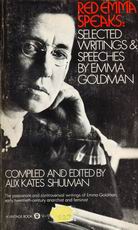 Red Emma Speaks
Selected Writings and Speeches by Emma Goldman
Goldman, Emma (edited by Shulman, Alix Kates)
Publisher: Vintage
Year Published: 1972
Pages: 415pp ISBN: 0-394-71172-6
Resource Type: Book
Cx Number: CX6525
A collection of essays which provide a comprehensive view of Emma Goldman's theories and beliefs.
Abstract:
Emma Goldman, the early twentieth-century anarchist and feminist, was born into a Jewish family in czarist Russia and fled to the United States when she was seventeen. She became interested in anarchism as a solution to the economic and sexual exploitation she saw around her; became an activist and was named the "Anarchist Queen."
Red Emma Speaks: Selected Writings & Speeches by Emma Goldman is a collection of essays which provide a comprehensive view of the theories and beliefs of Emma Goldman on a number of topics including education, marriage, prisons, and women's liberation. The book is divided into four parts, each of which has an individual preface along with a longer, general introduction at the beginning by Alix Shulman. Part one, "Organization of Society", contains five essays in which Goldman explains her vision of the political and economic organization of society under anarchism while part two, "Social Institutions," examines the extent to which society's major social institutions manipulate and control us. Part three, "Violence," contains seven essays on individual and institutional violence and part four, "Two Revolutions and a Summary," contains the Afterward to "My Disillusionment in Russia" and three other pieces. The book ends with the essay "Was My Life Worth Living?"
[Abstract by Nabeeha Chaudhary]
Table of Contents
Introduction
Part One: Organization of Society
Preface to Part One
What I Believe
Anarchism: What It Really Stands For
Syndicalism: Its Theory and Practice
Socialism: Caught in the Political Trap
The Individual, Society and the State
Part Two: Social Institutions
Preface to Part Two
The Child and Its Enemies
The Social Importance of the Modern School
Victims of Morality
The Tragedy of Women's Emancipation
The Traffic in Women
Marriage and Love
Jealousy: Causes and a Possible Cure
Intellectual Proletarians
The Failure of Christianity
The Philosophy of Atheism
Part Three: Violence
Preface to Part Three
The Psychology of Political Violence
What We Did About the Slaughter at Homestead
The Assassination of McKinley
Outrage at San Diego
Prisons: A Social Crime and Failure
Preparedness: The Road to Universal Slaughter
Address to the Jury
Part Four: Two Revolutions and a Summary
Preface to Part Four
Afterword to My Disillusionment in Russia
There Is No Communism in Russia
Address to the International Working Men's Association Congress
Was My life Worth Living?
Index
Subject Headings