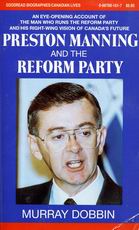 Preston Manning and the Reform Party

Dobbin, Murray
Publisher: Goodread Biographies/Formac Publishing
Year Published: 1992
Pages: 298pp Price: $6.95 ISBN: 0-88780-161-7
Library of Congress Number: JL197.R34D62 1992 Dewey: 324.271'0983
Resource Type: Book
Cx Number: CX6506
A profile of Preston Manning and his right-wing agenda.
Abstract:
-
Table of Contents
Acknowledgments
Preface
Introduction
1. Out of the Wilderness
2. Preston Manning Charts His Father's Course
3. Serving the World of Private Enterprise
4. Waiting for the Moment
5. Connections
6. Managing the Membership
7. Reform Party Policy
8. Quebec and Constitutional Reform
9. The Reform Party's Democratic Reforms
10. Where Would Preston Manning Take Us?
Postscript
Notes
Subject Headings